"This recipe comes from Better Homes and Gardens "Simply Delicious" November 2012 issue p. 166"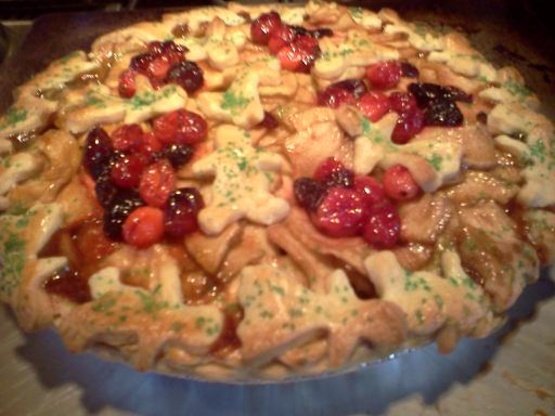 Caramel Apple Cran-Cherry Pie
1 recipe photo
Directions
If you are home-making your crust, reserve 1/3 of it for the decorative top. If you plan on using a frozen crust, just buy two crusts and roll out the second to cut out cute shapes (the magazine suggests leaves, but you can use anything that is small enough to be seen without covering the pie completely).
For the Cran-Cherry Compote: In a small sauce pan, mix all ingredients (except the cherries) with a pinch of salt and cook over medium heat until the cherries just begin to burst. Be sure to stir occasionally. When cranberries begin to burst, stir in the cherries and take the pan off the heat to cool.
For the Caramel Apple Filling: In a large bowl, toss apples, lemon juice, and lemon peel to coat apples.
In a small bowl, mix brown sugar, flour, cinnamon, and 1/2 teaspoons salt. Pour flour mixture over apples and toss to coat.
In a large pot on medium heat, melt the butter and add the apple mixture. Cook about 5 minutes stirring the pot frequently. Add the whipping cream and vanilla. Continue cooking, stirring often, until juices thicken and apples are tender (about 5 minutes). Remove from heat, and cool completely.
Pie Assembly: Preheat oven to 350°F Using a slotted spoon, spoon one-third of the cran-cherry mixture into the bottom of the crust. Layer half the apple mixture on top of the cranberries. Spoon another third of the cran-cherry mixture on top of the apples in random dollops. Spoon over remaining apples. Spoon remaining cran-cherry mixture on top in random dollops, leaving pockets of apple visible on top (placing the cran-cherry mixture in little pockets keeps the apples from being dyed red). Leave the flat edge of the crust free from filling.
Whisk the egg and water together to create an egg wash, and brush over the crust lining. Gently press on your crust cut-outs to adhere them to the pie crust. Place the remaining cut outs at random over the pie, and brush with egg wash.
Sprinkle the cut outs with coarse sugar.
Place a foil-lined baking sheet on rack below pie in oven to catch any drippings and bake the pie for 35-40 minutes. Then, cover the edges with foil and bake 10-15 minutes more or until crust is deep golden brown and filling is bubbly. Cool 3 hours before serving.
get the genius kitchen app.
Watch on your iPhone, iPad, Apple TV, Roku, or Fire TV.
Learn More