""I like YOUR coffee best" insists DH. I developed this mixture as a copycat of Starbuck's Caramel Macchiato, but using my half-caffeinated, half-decaffeinated coffee mix (I use Chock Full O' Nuts decaf and ground Starbucks French Roast). I buy Swiss Miss No-Sugar-Added Cocoa in bulk when Costco puts it on sale at the end of the season. I squeeze the caramel topping for 5 counts for DH and 3 counts for me. When I can't find hazelnut flavored syrup, I use the vanilla flavor; we miss that flavor accent if I omit it. This recipe fills one 18-to-20-ounce travel mug. You can top with whipped cream if you wish to make a special presentation (that may be how we made it past our third date!)."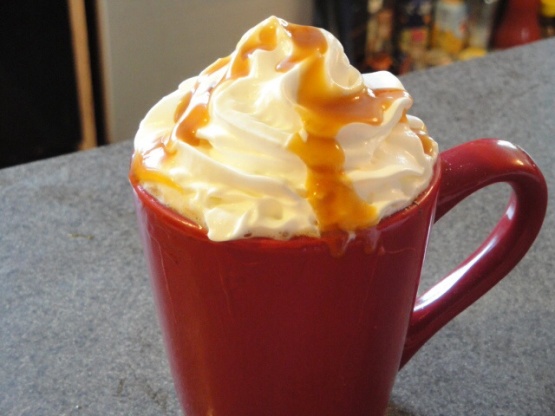 Caramel Macchiato Coffee Chez Kathy
9 recipe photos
18

ounces cold water
1⁄4

cup ground decaffeinated coffee

1⁄4 cup ground coffee, preferably French Roast
5⁄8

ounce Swiss Miss diet cocoa mix (1 package Swiss Miss No-Sugar-Added Cocoa)

1⁄2-1

tablespoon caramel ice cream topping

1

teaspoon fat-free half-and-half (optional)

1⁄4

teaspoon sugar-free hazelnut syrup (hazelnut or vanilla flavor)

sweetened whipped cream (optional)
Directions
Put water in drip coffee maker.
Put ground coffee in filter in coffee maker. Push button. Let drip.
Meanwhile, in an 18-to-20-ounce travel mug, pour in 1 packet of Swiss Miss No-Sugar-Added cocoa.
If you have a sweet tooth, squeeze about 1 tablespoon of Smuckers Caramel ice cream topping (count of 5) on top of cocoa. Otherwise, add about 1/2 tablespoon of the caramel topping (count of 3).
(Optional:) Add a splash of fat-free half-and-half on top of the caramel topping. It was approximately 1 teaspoon. This is optional; it makes the coffee taste richer.
Add a tiny amount of hazelnut or vanilla flavored sugar syrup. I measured this to be about 1/4 teaspoon. Don't overdo it, it's better as a mysterious accent.
Pour in prepared coffee. Stir well with knife to make sure all the cocoa mix has dissolved.
(Optional:) Top with whipped cream if you don't put the lid on and you want to impress.