"A recipe from the Chef Michael Smith recipe files. Crunchy topping, velvety smooth pudding. Tends to be a bit rich, and sweet. The reason for using the baking torch is that you want the pudding to still be cold when you serve it. The torch only carmelizes, it doesn't heat up the whole pudding as putting it back under the broiler, will."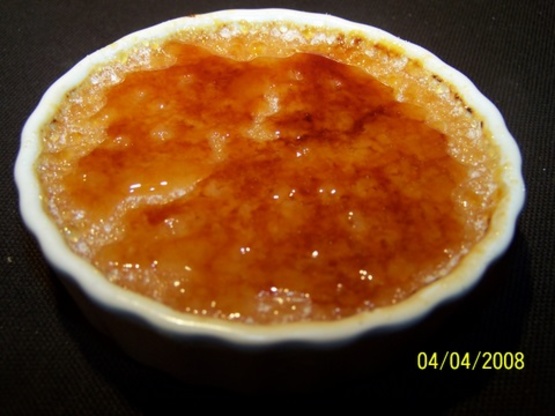 Caramelized Creme Brulee
1 recipe photo
Directions
Make the butterscotch, first.
Put 1 cup sugar in saucepan, pour 1/4 cup water around sugar, put on stove, do not stir. Leave on stove, but watch, you will see the water boil away, leaving a clear thick substance. Let the substance(sugar), boil hard for 5 minutes. Then stir the sugar, till it turns a golden brown, and remove from heat.
Stir in the cold milk, and whipping cream, vanilla extract and salt. The butterscotch will instantly harden.
Put back on heat and reheat until the butterscotch softens and whisk till it incorporates with the milk.
Let cool slightly.
Start up your mixer, with the whisk attachment on medium speed. Slowly, pour in the milk mixture into the eggs, so they don't curdle. Do this until all the milk is in the eggs. Then put on a higher speed for 2 minutes.
Strain, pudding through a strainer, into a clean bowl.
Pour into 5-4 ounce timbals, 3/4 of the way up the bowl.
Place the pudding cups in a tray, with sides, as you will be pouring water in around the bowls, about 1/2 way up the bowls.
Bake in oven, preheated to 325F, for 30 minutes.
Pudding should be set at sides, but jiggly in centre.
Remove from bath, cool slightly, then put in fridge, to set.
Just before serving, remove pudding from fridge.
Spread 1 tbsp per pudding, evenly on top of pudding.
Use baking torch, and caramelize topping.
Serve.