"This sauce has the perfect balance, thanks Sunny A. It's my favorite for drumsticks. I buy the big bulk packages of drumsticks and whip up this sauce. Marinating and basting options follow. I just baste as it cooks and it's delicious. Recipe is for 3 lbs. chicken wings. I use 12 big drumsticks and have no sauce left over."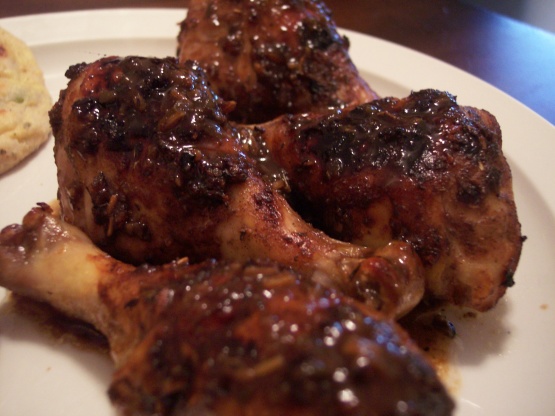 Caribbean Chicken
1 recipe photo
Directions
Combine jalapenos through scallions in a blender and puree. Add vinegar, lime, orange juice and blend until smooth.
To Marinate: Place chicken in bag, add marinade, refrigerate for 4-6 hours. Remove chicken and bake. Meanwhile, boil marinade and reduce. Use the sauce to glaze the chicken.
To Baste : Spray baking pan, salt and pepper drumsticks, baste on skin side up, cook for 10-15 min., flip, baste other side and continue until fully cooked. The crispy skin is so good.
I cook drumsticks at 450 for 35-40 minutes and they crisp up well for me. If I want extra crispy I'll broil for a couple minutes too.