"These soft citrus-infused carrot cookies get a moisture barrier and a little extra zing from the orange flavored frosting. They are not anything like spicy, heavy carrot cake, they are light and make a wonderful summer cookie. My mother got this recipe from a dear friend of our family, and I have not seen nor had another carrot cookie like these anywhere else."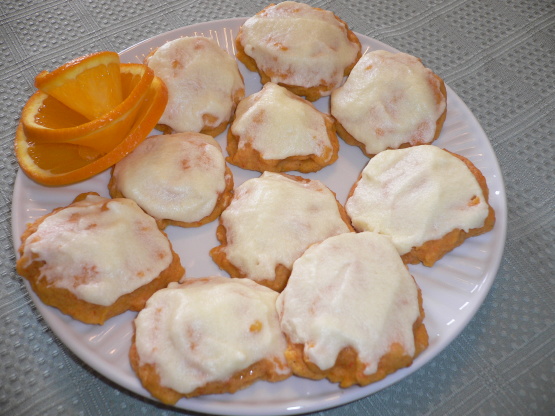 Carrot Cookies
1 recipe photo
Directions
Prepare carrots: wash, peel and coarsely chop about 2 lbs of carrots. Boil in water until tender, usually about 20 minutes. Drain water from carrots then mash. Allow to cool to room temperature, or refrigerate if you are going to prepare the cookie batter later. Measure 2 cups of carrots for recipe.
Preheat oven to 375 f degrees.
Sift together the flour, baking powder and salt in a medium bowl and set aside.
Cream together sugar, shortening, eggs, vanilla and lemon extracts with a mixer in a large mixing bowl.
Add in combined flour, baking powder and salt until incorporated (do not over mix).
Add cooled mashed carrots and mix in, taking care not to over mix.
Drop cookie dough by tablespoons onto ungreased or parchment lined cookie sheet, at least 1 inch apart.
Bake in 375 f. degree oven for 8-10 minutes, until the surface looks dry. They will not be browned. Cool on a rack until completely cool.
While the cookies are cooling, prepare the frosting:.
Mix the powdered sugar with the butter then add the orange juice a tablespoon at a time until desired consistency.
Frost cookies.
Store cookies in the refrigerator with layers separated by waxed paper.
Enjoy!