"This is how I clean my own cast iron skillets, cast iron lids, and cast iron Dutch ovens. If you are unsure about my method, don't try it. It works for me, because although my cast iron is very old, it has no breaks or cracks. I have had really nice results this way! For self-cleaning ovens! *** I read a review (and thanks for it really!) that this will delete the non-stick qualities. I should have made my intention clearer, since this is what I do when cast iron has too much old, old build-up or looks too disgusting from non-use. I am happy someone said something though! I use my cast iron alot, so mine continues to stay nice because of that."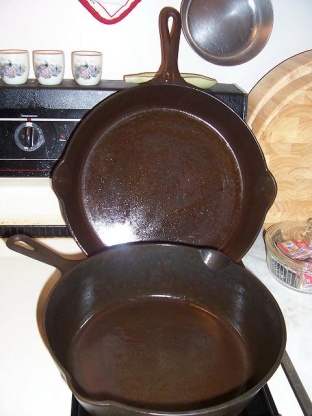 Cast Iron Cleaning
3 recipe photos
Directions
Check your cast iron pieces for breaks and/or cracks. If there are any , this may not be suitable, I couldn't say for sure.
If you have any severe residue, try to take it off, but cleaning will most likely remove it.
Place your cast iron pieces of cookware open (or top) sides down on the middle rack in your oven. Space the pieces evenly.
Following your oven oven's self-cleaning cycle directions, set your oven to begin the cycle. Don't forget to remove anything fron the stovetop and storage drawer, if you have it.
Most self-cleaning ovens cycle for two hours, this is sufficient to clean cast iron too.
When the oven cleaning cycle is complete, let everything cool to touch. Remove your cast iron from your oven.
Your oven should have turned off from the cycle. Reset the oven to low just to warm it, like you would keep food warm.
Brush off any powder residue, using a wire brush if necessary, to smooth the cast iron. Blow out or wipe out the dust, if you've done this.
Using a new paper towel for each piece, use up to the 1 tablespoon of Crisco on your paper towel (some people recommend mineral oil) and smooth it over the complete surface of your cast iron. Make a thin layer. and a little thicker on the inside portion of your cookware.
Set your pieces right side up in your oven and bake on low for 1 up to 2 hours, if your time allows.
Take your cast iron out and let it cool on your stovetop.
When you cast iron has cooled to touch, use more clean papertowels to wipe the excess Crisco fron the cast iron.
I store my cast iron with a clean dishcloth between each piece, if I stack pieces.
In between seasonings, clean in a mildly soapy water, turn the flame on your stovetop to medium high and set the cast iron on it until it dries, turn off the flame and let it cool to touch. Then wipe again on the inside with Crisco (or mineral oil) on a clean papertowel.
get the genius kitchen app.
Watch on your iPhone, iPad, Apple TV, Roku, or Fire TV.
Learn More