"A wonderful sweet, chewy and tropical cookie with a hint of coffee. I originally tried this recipe just so I could use up some leftover coconut milk, but I ended up enjoying it so much I will now buy coconut milk in order to make these cookies! The original recipe (from a coffee enthusiast's home page!) called for 2 tablespoons of instant coffee, but I find I'm happy with one - do experiment to see if you prefer less or more! I've also found that the flour-coconut ratio is quite forgiving: I've used only 1/2 cup of coconut and made up the difference with extra flour with beautiful results."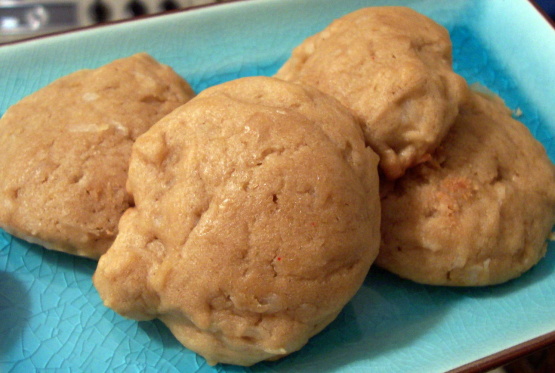 CCC - Coconut Coffee Cookies
1 recipe photo
Directions
Preheat oven to 175 C and line baking sheets with parchment paper.
Mix butter, sugar and salt with an electric mixer until creamy, about 1 minute.
Add the egg and beat well.
Heat the coconut milk gently in a saucepan over medium heat or in the microwave.
Add instant coffee and stir to dissolve.
Stir the coconut-coffee mixture into the butter mixture.
Sift together flour and baking powder and add to the batter, stirring just until the ingredients are incorporated.
Fold in the flaked coconut.
Drop heaping teaspoons of batter 1 inch apart on baking sheets.
Bake in the preheated oven for 12-15 minutes or until cookies are pale golden brown.
Transfer to wire racks to cool.
Store cookies in an airtight container at room temperature; cookies will keep up to two weeks.