"The biggest challenge in preparation of this recipe is ensuring the braiding stays intact. Once braiding is complete and liquids poured and brushed generously over the fillets, transferring to a backing sheet, is quite simple; chilling overnight is essential. I love this recipe because of its unique flavour. Although originally developed for the barbeque, it can be successfully baked in your oven. This recipe was handed to me in preparation for a wedding reception in B.C. (August/2004); I had to adjust the ingredients, of course, to serve 150 people. Preparation was a fun exercise; the prepared salmon was cooked on a 5 ft. length, 2" X 10", water-soaked, cedar plank and placed on a large, propane-fired grill. The end result was a perfectly seasoned, delightfully flavoured, lightly smoked salmon that had the wedding guests returning to the buffet table, repeatedly, until all 24 salmon fillets had been devoured. When purchasing your salmon, have the fish-monger filet the fish, remove the skin and pin bones.... When you have purchased your cedar plank, soak the plank in cold water, overnight. Place the plank in a container of water, with a rock or brick on the plank to keep it submerged. Soaking the plank will keep it from burning during the cooking process. Not soaking it gives the salmon a stronger, smoky taste. Remember, this is not only a recipe, it is also a cooking lesson, so have patience and you will be pleased with the results. Follow the Instructions carefully, and you cannot fail. It is a wonderful recipe, the end result will amaze you and your guests praise you."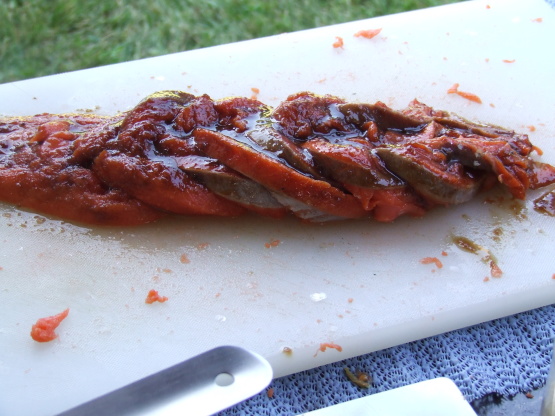 Cedar Plank Braided Salmon With Apple Butter Sauce
8 recipe photos
READY IN:

1hr 30mins

SERVES:

10-12

UNITS:

US
Directions
To prepare Apple Butter Sauce: blend the mayo, butter and tarragon in a bowl and chill until serving time. Makes 2 cups Apple Butter Sauce.
Fillet the salmon, removing all the bones.
Remove the skin and pin bones.
Oil the cedar planks and place the salmon on it.
Slice through the salmon, from the wide end, lengthwise, to about 2 inches from the tail end.
Repeat this motion to cut a total of seven strips that are each about 1/2" to 3/4" wide.
Keep the tail end intact.
Where the fish is intact at tail end, strips will be narrower.
Measure out half of the maple syrup and reserve.
Combine remaining maple syrup with whiskey, or liqueur.
Brush whiskey mixture all over salmon strips to generously coat.
Season with salt and pepper.
To braid: Mentally label the strips starting from the left as numbers 1 through 7.
Starting with strip number 4 lift it over strips 1 through 3, so that it is now on the outside left-hand side.
Next, take strip number 3 and lift it over strips 5 through 7 (to the right side).
Now, start again, renumbering the strips from 1 through 7.
Again, lift (the new) strip number 4 to the far left and (the new) strip number 3 to the right.
Continue in this manner until you have braided the whole length of fish.
Repeat braiding steps for second fillet.
Pat the braided fish into one compact length.
Either skewer the loose ends together or simply press together to keep in place.
At this point, the planked, braided salmon can be set on a backing sheet, covered and chilled overnight.
To finish the salmon: pour the maple butter and reserved syrup generously over the salmon; use a pastry brush to force the liquid into nooks and crannies.
Season with salt and pepper.
Preheat BBQ to medium heat, or oven to 350°F.
To Barbeque the Salmon: Place the plank on a grill, over medium heat, on the upper rack, if your bbq has one.
Close lid (or cover salmon with foil roasting pan).
Cook for 20 to 25 minutes, or until fish flakes easily when tested with a fork and internal temp for the fish reaches 120°F.
Alternatively: Preheat oven to 350°F.
To roast the salmon in the oven, place the plank on a foil lined, rimmed baking sheet and bake in a preheated oven for 30 to 35 minutes.
Remove plank and salmon from heat.
Dust salmon liberally with maple sugar.
Salmon may be served hot or cold right from the plank.
Garnish with fresh herbs if using.
Serve with chilled Apple Butter Sauce.
get the genius kitchen app.
Watch on your iPhone, iPad, Apple TV, Roku, or Fire TV.
Learn More