"This is a very simple but scrumptious apple pudding cake that is easy to make. Basically a cake mixture with apple and a sauce that tops it as soon as you remove it from the oven. The sweet sauce sinks into the cake and makes it moist and beautiful. Serve warm with cream or vanilla ice cream. Delish!"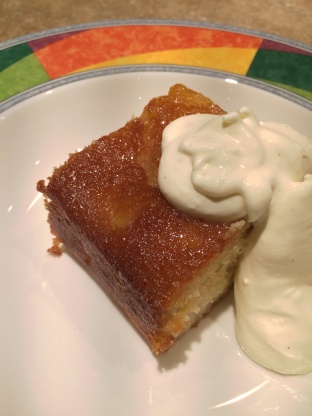 Charlene's Apple Dessert Cake
2 recipe photos
Directions
Preheat oven to 160 degree celcius.
Cream the 3 T butter & sugar together.
add 2 eggs 1 at a time & beat well.
Sift together flour, baking powder & salt.
Add this to the butter mixture & add 1/3 cup of milk.
Mix in pie apple and pour into a greased round or rectangular dish.
Bake in a 160 degree celcius oven for 45 minutes.
Sauce:.
Add all sauce ingredients into a small pot and cook on low temperature for 20 minutes.
Pour the sauce over the tart directly after removing it from the oven.
Serve warm with cream or ice cream.