"This recipe was altered by me and originated from Todd Wilbur's Top Secret Recipe Book (I have every one of his books). He also has a website (check it out!). I was looking for a copycat recipe for R. Lobster's Cheddar Cheese biscuits and came upon this variation...which I personally like more than the biscuit recipe I was trying to locate. You can make biscuits with this, but I spread the mixture out to be more like a pizza and it saved me time and was more fun to eat. I think these would also make really neat appetizers if you used small spoons of the dough on the baking sheet...but you would have to adjust cooking time. I will be making this recipe over and over because it was so easy and tasted like I fussed all night! You will find my recipe long, but that's because my directions are thorough...the prep time/work time for this recipe is only 10 minutes...though that may be because I make it often!"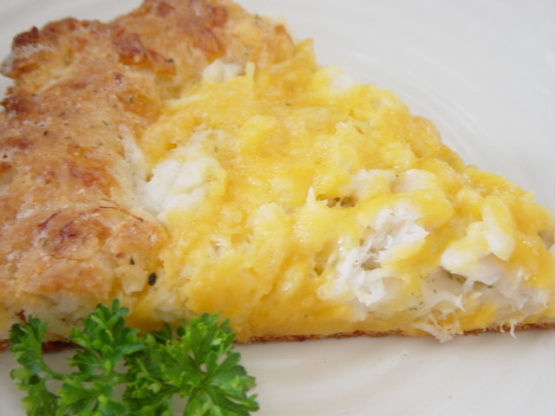 Cheddar Cheese Crab Bake
2 recipe photos
READY IN:

26mins

SERVES:

8

UNITS:

US
Directions
Wash your hands well (you will be mixing dough with them).
Preheat oven to 450.
Spray pizza baking sheet or jelly roll/baking sheet with non stick spray in a 8 inch circle in center of sheet.
Cut 2 TB of butter off of stick, then 1 TB off of stick.
Melt 1 TB of butter in microwave for a few seconds (be careful when you take it out not to burn yourself).
In a medium mixing bowl, combine Bisquick or baking mix, 1 cup of the cheddar cheese, milk and 1TB of the melted butter.
Mix with your hand until well combined.
Dough will form a sticky thick glob and mixture should not be dry or crumbly at all- Scrape excess off of hand and pat into ball- Pick up dough ball and put it into center of your sprayed circle on your baking sheet- Add any dough from bowl that you can scrape up.
Spread dough into a pizza shape about 8 inches in diameter, forming a lip around edge like a pizza- To do this, I just started from the center and kept mashing out towards the edges- The lip naturally formed for me this way- If your dough isn't round in shape, then shape it like you would playdough.
Wash your hands and dry well.
Take parsley flakes and, pinching them between your fingers make sure they are finely ground.
After grinding them well, sprinkle them on top of your dough.
Sprinkle the crabmeat on top of the parsley flakes.
Sprinkle the remaining cheese on top of the crabmeat.
Remember not to go all the way to the edge of your"pizza" with your cheese.
Bake for approx 15 minutes on center rack or until the cheese browns slightly.
While Bread is baking, melt the other 2 TB of Butter and combine with the garlic powder.
When bread is finished, take out of oven and immediately brush entire surface with the melted butter/garlic powder.
Put back in oven for 1 more minute.
Take out of oven and slice into 8 pieces with pizza cutter and serve hot.