"This recipe came from a good family friend in AZ. My family likes the simplicity of it and the fact that meats/beans can be added if we like. This recipe freezes well. I usually make the sauce in the morning and let it simmer for about 5 hours. A side note - for the sauce - the cheese does not go IN the sauce. :) Someone had asked about that."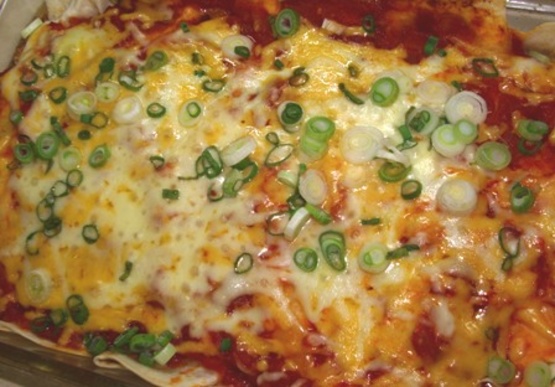 Cheese Enchiladas
1 recipe photo
Directions
Enchilada Sauce:.
Put shortening and flour in pan; add tomato sauce and water. Mix and cook until thickened. Add other sauce ingredients. Cheese is not a sauce ingredient. The computer just lumps all the ingredients together. Cook, the longer the better.
Homemade Tortillas:.
In a medium bowl, combine flour, baking powder and salt.
Stir in water and oil. (This can be done in a mixer and turns out very well.) Turn dough onto counter and knead for 2-3 minutes until it is smooth and has no lumps.
Return dough to bowl, cover with damp cloth or wet paper towel and let sit for 15 minutes. Remove from bowl and divide into 10 pieces. Leave pieces on counter and cover again with a damp cloth for about 10 minutes. Roll out each piece of dough into an 8 inch round. Cook torillas on griddle. Makes 10.
*These tortillas come out thicker than the store bought variety. Just add more water and roll them out thinner to make them more like store bought ones.
Put some sauce in bottom of 9x13 pan.
Spread some sauce peanut butter style on each tortilla.
Place about 2 TBSP cheese on each tortilla. Roll up.
Place seam side down in pan.
Pour remaining sauce over enchiladas; sprinkle with remaining cheese. Bake uncovered at 350 degrees until cheese melts and enchiladas are hot, about 20 minutes.
Serve with olives, lettuce and sour cream if desired.