Want more from Genius Kitchen?
Watch on your Apple TV, Roku, or Fire TV and your iOS, Fire, or Android device.
Learn More
"Call it what you will, traditional British cheese on toast is a national institution, an iconic snack enjoyed by all, regardless of class or background! What can be simpler and tastier, hunks of homemade or crusty farmhouse style bread topped with mature Cheddar cheese, a smidge of mustard and Worcestershire sauce for those who desire an extra kick! This is NOT really a recipe; it is a basic method for making a super tasty and nutritious fast food dish. There is even a Cheese on Toast Day celebrated in the UK - mark your calendars now, the last Thursday in April has been set aside for this comforting supper treat. I lived on cheese on toast whilst I was a student, as I am sure most students do nowadays! You can use other British cheeses, but I find the best cheese without a doubt, is a good mature farmhouse cheddar. Make sure your bread is thickly sliced and you have your plates ready and waiting to receive the molten cheesy snack - pull up a chair by the fireside in the winter and enjoy your 5-minute culinary efforts! (This is an all year around snack I hasten to add.) An interesting historical note; toasted cheese was served as the final course to male diners during Edwardian times, in Gentleman's Clubs........the cheese was melted and served in a pot with the toast set around the edges - a sort of Gentleman's Club fondue!"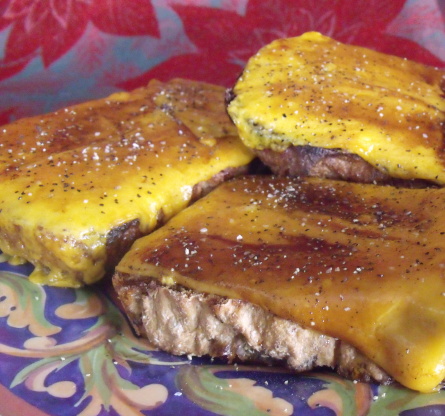 Cheese on Toast - Cheap and Cheerful British Toasted Cheese
8 recipe photos
Directions
Preheat the grill to hot and toast the bread on both sides. Spread a little mustard on each slice, then top with the cheese, laying the slices of cheese as close as possible to the edges of the toast. (Pile the grated cheese over the top evenly, again as close to the edges as possible.).
Sprinkle over the Worcestershire sauce to taste then pop the cheese on toast under the grill. Cook for 2-3 minutes or until golden and bubbling.
Season with salt and pepper and serve immediately with Branston pickle, chutney, relish and/or pickled onions.
Serves 2 to 4 depending on "greed level" and hunger! Alternatively, serves an impoverished student as a main course meal!
Tip - for full flavour, use a mature Farmhouse Cheddar and good quality thick sliced bread – I prefer white, but granary and wholemeal are fine.
Final note - Cooking Style.
There are generally two schools of Cheese on Toast Chefery, those who use grated cheese, and those who use slabs of cheese. It has even been suggested that peoples personality is reflected in how they cook their cheese on toast.
Slabbers are direct and focused. The key for them being that is quick, easy, and generates minimal washing up.
Graters tend to be more extravert and creative. They will spend minutes piling extra cheese onto each piece of the toast. Most of this cheese will fall off the toast when its inserted under the grill. Slabbers tend to think that the amount of grated cheese piled on a slice of toast is inversely proportional to the chance of being made to clean the grill pan.
Obsessive Slabbers. An obsessive slabber will arrange the slices of cheese to totally cover the bread, not overlap the sides of the bread, and not overlap each other.
Warning:A Slabber will generally be happy to be given a plate of grated Cheese on toast, but Graters always look disappointed with slab Cheese on toast! Relationships have ended over this point.
get the genius kitchen app.
Watch on your iPhone, iPad, Apple TV, Android, Roku, or Fire TV.
Learn More