"I saw a recipe on another website which stimulated my imagination and I made this new creation instead. It was super easy and quick. But the best thing is that it is also delicious!"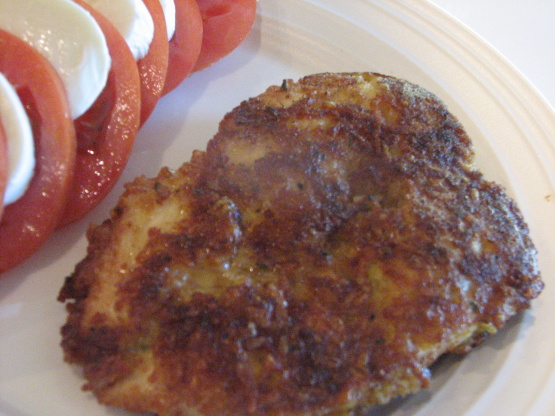 Cheesy Italian Chicken
1 recipe photo
Directions
Blend the bread crumbs & the cheese together with 1/2 of the teaspoon of black pepper and set aside.
Beat the eggs together and add the other 1/2 teaspoon of black pepper.
Split each breast in half width wise so that you will have 4 thin pieces of chicken.
Heat the olive oil and the butter in a large skillet until medium hot.
Dip each piece of chicken into the egg mixture then into the breading mixture, being sure to put as much breading as possible on each side -- patting helps.
Place the chicken in the skillet.
Brown well on both sides, cooking time is a approximate depends on size of meat.
Drain on Paper Towels & Enjoy.
Because the chicken pieces are thin they will cook quickly and be done in a very short time.