"Add the meatballs to the simmering sauce during the last 10 minutes of cooking. Serve over cooked pasta, if desired. Recipe is from Rachael Ray."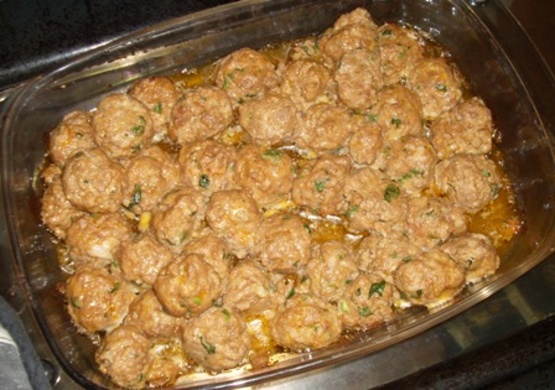 Cheesy Meatballs With Basil Tomato Sauce
2 recipe photos
Directions
For meatballs, in large mixing bowl, gently break apart the beef with a fork.
Add the onion, breadcrumbs, parmesan, pecorino-romano, ketchup, parsley, basil, salt, Worcestershire sauce and garlic powder and stir gently to combine.
Stir in the egg until just incorporated.
Using your hands, shape the meat into 1-inch balls, to make about 60 meatballs.
In a large nonstick skillet, heat 2 T olive oil over medium-high heat.
Working in batches, add the meatballs and cook, turning, until lightly browned, about 10 minutes, adding more oil when necessary.
Drain on paper towels.
Note: You could also bake the meatballs for about 20-25 minutes at 350 degrees.
For sauce,.
In large saucepan, heat the olive oil over medium heat.
Add the onions, season with 1 1/2 t salt and cook until softened, about 10 minutes.
Add the tomatoes, the remaining 1 1/2 t salt and the basil and bring to a simmer over high heat.
Lower the heat, cover and simmer for 45 minutes more.
Add the meatballs to the simmering sauce during the last 10 minutes of cooking.
Serve over cooked pasta.
The amount of sauce will serve 6 people. I listed the servings as 60 for 60 meatballs.