"Here are some ideas for using what is at-hand to create an excellent stuffed pepper dish. I used some exotic ingredients, left-over from a party, in the original recipe; ingrediets such as Boursin cheese and corno di toro peppers, but I have translated them into their more usual counterparts for this recipe. For example, fully ripe red Corno di Toro (or Bull's Horn) peppers, which come from my garden, have a complex flavor both sweet and mildly spicy. Substitute poblanos for more heat and spice, or use hot banana or Anaheim peppers for even more heat. If you prefer mild peppers, substitute sweet Italian (aka Italianelles or Italian frying peppers), bells, or cubanelle peppers. I am indebted to TheTravelCook for her permission to use this recipe from the blog Brainfood."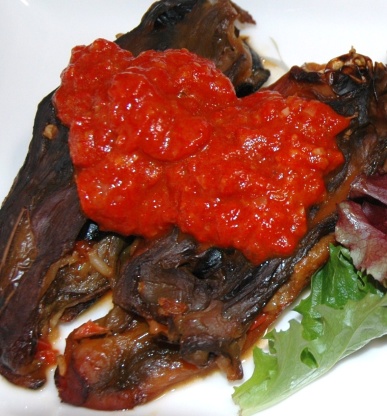 Cheesy Shrimp-Stuffed Corno Di Toro Peppers
2 recipe photos
4

large sweet peppers, if using thin fleshed peppers, remove cap, seeds, and membranes before stuffing, if using thick fles
3⁄4 cup cooked brown rice
1⁄2 lb shrimp, shells removed, devined, and chopped

4

large garlic cloves, peeled, minced
1⁄2-1

fresh jalapeno pepper, minced

1⁄2 large red bell pepper, seeded, minced
1⁄2 large shallot, minced
1⁄3 cup low-fat cream cheese or 1⁄3 cup creamy goat cheese
1⁄3 cup smoked mozzarella cheese, shredded

2

tablespoons fresh cilantro, minced

2

tablespoons fresh sweet basil leaves, minced

2

tablespoons olive oil
Directions
Place poblanos or cubanelles under a broiler on high, in the oven, or on a very hot grill. (NOTE: Roast or grill 3 large red bell peppers while you roast the poblanos if you are using the Roasted Red Pepper sauce I recommend.) Broil or grill the peppers, rotating until the outer skin is charred all around, but the peppers are still slightly undercooked.
Place charred peppers in a brown paper bag, closing the end to retain the steam, and allow to cool fro at least 5 minutes to a temperature that you can handle comfortably. Peel away and discard the skin that has charred on the outer surface.
Using a sharp knife and being careful not to cut all the way through the stem and bottom ends of the pepper, make a vertical slit along one side. Carefully remove the seed strings and core through this slit.
Chop the garlic, jalapeno, red bell pepper, and shallot; let them stand undisturbed on the cutting board or in a medium sized mixing bowl for about 5 minutes.
Mince the cilantro and basil and add to the mixing bowl. Shred the mozzarella cheese, adding it and the Boursin to the mixing bowl. Stir well. Add rice, chopped spicy shrimp, shredded cheese, and herbs. Stir to mix well.
Spray or rub a shallow baking dish with olive oil. Place a prepared pepper on the cutting board with cut side up; spoon stuffing inside, roll to close opening, and place in the baking dish. Continue until all the poblanos are stuffed. If there is extra stuffing it may be mixed with black beans and fresh tomatoes for a lunch salad.
Bake in a preheated 350 F for 15-20 minutes.
To serve as main dish: Place 2 peppers on each plate; drizzle with roasted red pepper sauce.
To serve as appetizers: Arrange all the peppers on a serving dish. Either drizzle red pepper sauce over them on the serving plate, or provide a small dish of red pepper sauce and small ladle for self service.
get the genius kitchen app.
Watch on your iPhone, iPad, Apple TV, Roku, or Fire TV.
Learn More