"The other day, I had a hard time trying to get out of my wife what she may like for dinner. I had gone to the store to get ingredients to make a boring yet delicious butternut squash soup, but decided that I didn't want to make it. As I sat in my car in the parking lot of our local grocery store, I had remembered weeks earlier about my wife saying something about a tortilla soup that she had tried a while ago. I myself have tried the soup, but having already left the house, I had no way of looking up another recipe. After a few more minutes of thinking, I went into the store, bought a bunch of ingredients, came home and started cooking. What follows is the result. I hope you enjoy it as we did, just two nights ago."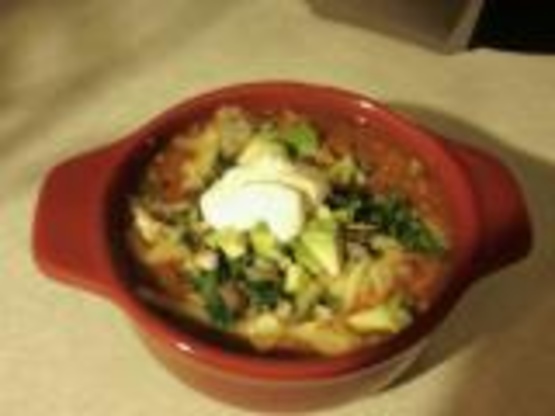 Chef Pachuco's Chicken Tortilla Soup
1 recipe photo
Directions
Preheat oven to 200°.
Place tortillas on baking sheet. When oven is preheated, place tortillas in oven for 15-20 minutes, flipping once, to dry out (you do not want moist tortillas in this case).
When tortillas are dried out, cut into ¼ inch wide by 2 inch strips.
Boil chicken breasts in the chicken broth until they turn white in color and float.
Chop onion, tomatoes, and garlic. Set aside in bowl.
Chop cilantro. Set aside in another bowl.
Place poblano peppers under broiler or over the flame from a gas stove burner until the skin turns black in color.
Place poblanos in a plastic bag (you can use one like those you get at the grocery store) for 10-15 minutes.
When peppers are ready, take out of bag, run under cold water, and with hands (you may wish to use gloves), remove skin, seeds, and veins.
Chop the poblanos, and add to bowl with onion, tomatoes, and garlic.
In a skillet, heat enough oil to cover generously, the bottom of the skillet. Fry tortilla strips in the oil until golden brown (fry a little bit at a time; it is both easier to control, and gives more even browning).
Drain tortilla strips on some paper toweling to remove excess grease.
In the same oil, sauté onion, tomatoes, garlic, and poblanos until onion turns translucent.
Chop or shred chicken (is a matter of preference), then add to skillet with vegetables. Simmer for 5-10 minutes stirring occasionally.
Add tomato sauce and tomato paste, as well as all spices to the chicken broth. Bring to a boil.
Add vegetables from skillet and about one handful of cilantro (set remaining cilantro aside to use as a garnish if you choose) to the broth.
Reduce heat to a simmer and cook until cilantro turns black in color. Crush up approximately ¾ of the tortilla strips in a Ziploc bag until they are like bread crumbs, then add to pot.
Simmer until tortilla strips dissolve, stirring occasionally. When tortilla strips are dissolved, you are finished and ready to plate.
Serving suggestions are to shred some Monterey Jack cheese, and chop up some avocado, more onion and cilantro. Place these items along with some of the remaining tortilla strips on top of a piping hot bowl of soup.