"These are some super yummy scones! My husband adores these and I almost regret getting him hooked because they are so tempting to me as well! Work quickly with the dough and try not to over work it so your scones stay light. This recipe comes from The Vegan Lunchbox. (You can also add chopped almonds to the mix if you have some on hand - yum!!)"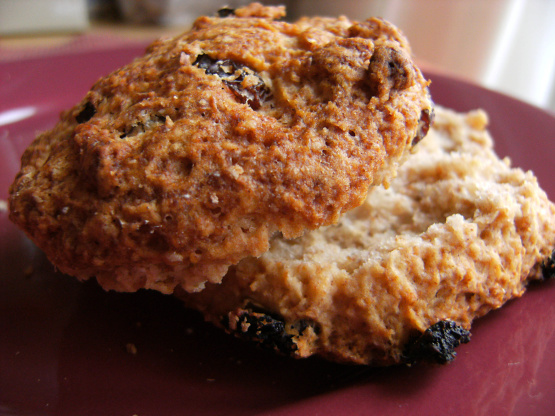 Cherry Almond Mini Scones (Vegan)
3 recipe photos
Directions
Preheat the oven to 400ºF. Line a baking sheet with parchment paper and spray with nonstick spray. Set aside.
Sift together the flours, sugar, baking powder, baking soda, and salt. Add the margarine and cut into the flour mixture using a pastry cutter or your fingers, until the mixture resembles a coarse, crumbly meal.
Add the soymilk, cherries, and almond extract. Mix well with a wooden spoon or your hands until the mixture comes together to form a dough. You may need to add an extra tablespoon of soymilk if the mixture is too dry.
Turn the dough out onto a lightly floured work surface. Divide the dough in half and form each half into a flat round, about 3/4 inch thick. Cut each round into six equal wedges.
Arrange the scones on the baking sheet. Brush the tops with a bit of soymilk and sprinkle with sugar. Bake for 15 to 18 minutes, until the edges and bottom are golden. Serve warm or cover with dish towel until ready to serve.