"I watched the National Pie Championships held by the American Pie Council on TV last night and had to look this recipe up today! It was torture watching the judges eat this delicious looking pie! They raved about her crust as well. This pie won "Best of Show" for Phyllis Bartholomew. In fact she pretty much cleaned up in all the categories. It looks pretty simple and clear-cut, I guess this is a good example of less is more. Her recipe uses canned sour cherries, but if you wish to substitute fresh sweet cherries, you can always reduce the amount of sugar and add a little lemon juice to taste...it should work fine with this recipe. This pie is extra pretty with a lattice top."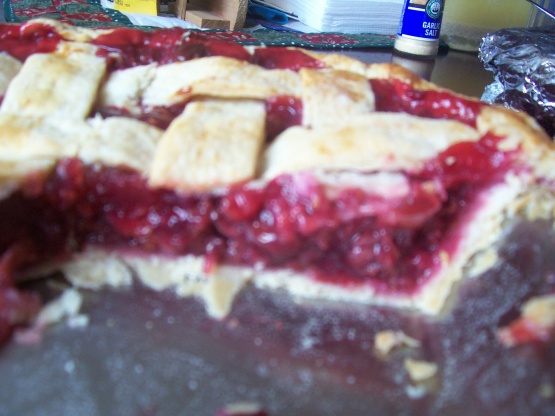 Cherry-Red Raspberry Pie
4 recipe photos
Directions
Pie Crust - Combine the flour and the cake flour. Cut in shortening until it resembles coarse crumbs. Beat together remaining ingredients and stir into flour until it is JUST incorporated. Form into a disk, wrap in plastic wrap and chill for at least an hour.
Roll out about 1/3 of the dough between 2 sheets of wax paper and line pie dish. You will need a top as well.
Preheat oven to 350°.
Filling - Thaw frozen raspberries and pour juice into a One-cup measuring cup. Add the reserved cherry juice to make one cup of liquid.
In a saucepan over medium heat, combine sugar, cornstarch, butter, salt, and one cup of the raspberry/cherry juice. Stir.
Add cherries and cook over medium heat until thick and clear. Remove from heat.
Add melted butter to the raspberries and very gently fold raspberries into saucepan.
Pour into pastry-lined pie dish. Add top crust. Seal edges, moisten top with hot milk and sprinkle with sugar. Cut steam vents.
Bake 350° for about 45 minutes.