"Another vegemite recipe find, when looking for a way to use up the cherry tomatoes I had. Oh so yummy, but you have to like Vegemite to really enjoy this recipe, but if you love it as much as my family does, then this is a must try recipe."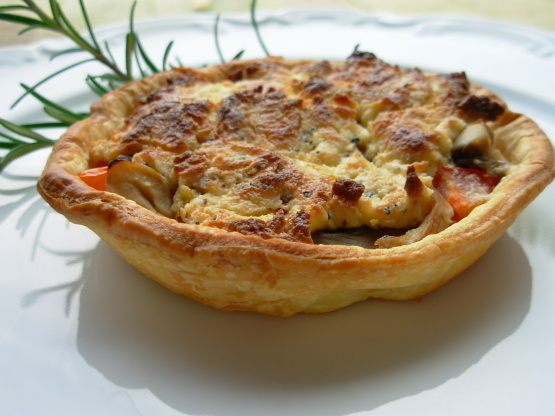 Cherry Tomato and Vegemite Tarts
3 recipe photos
Directions
Cut each pastry sheet into 4 even squares. Place onto lined oven trays and fold over 2cm of each edge to form a border around the edge of each square. Cut slits along the border every 2-3 cm all the way around the square. Brush lightly with the beaten eggwhite.
Top the pastry squares with the tomatoes, mushrooms and cream cheese.
Combine the Vegemite, honey and rosemary and drizzle over each square.
Bake at 200°C fan-forced for 12-15 minutes until base is crisp and golden.
Serve immediately and enjoy.