"This recipe is for a tradional english cake/dessert/snack. everyone in my family loves this recipe, though its so old i cant remember where it came from. we all love it because its such a sweet, gooey, rich comfort food! its so easy to make, why not try it out? there are variations in this recipe, so you can try out the different optional ingredients, or even a combination of them!"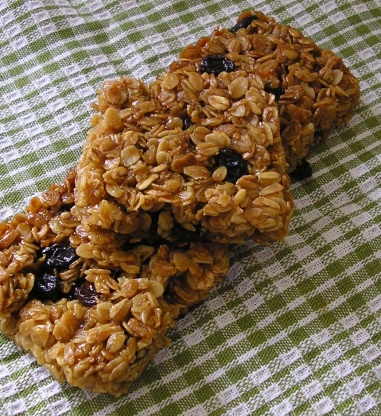 ***** Chewy English Flapjack *****
1 recipe photo
Directions
Put the butter, sugar, and syrup in a saucepan, and stir ir over a medium heat until the butter has melted.
put the melted mixture into a miXing bowl, and add the porridge oats and any optional ingredients you want to add.
put the mixture in a papered tin, flattening the mixture with the back of a spoon.
bake the flapjack in the oven at about 180c for around 30 minutes, or until the flapjack has browned.
note: if you are using raisons in your recipe, you might like to cook the flapjack for a shorter time, or for a longer time at a lower temperature, because raisins can burn and expand with the heat.
once you take the flapjack out, you should cut it before it cools completely because it will harden.
if youre impatient, eat some warm (if you havent already!) but flapjack is just as delicious chilled.
***** if youre a chocaholic, i would recommend that when the flapjack has cooled completely, you melt a black of chocolate and pour it over, and wait for it to set. *****.