"*Under Construction* This is restaurant recipe so it makes about 4 pizza crusts. I fixed it up a little to make it easier to understand (hopefully)! Prep time includes rest time."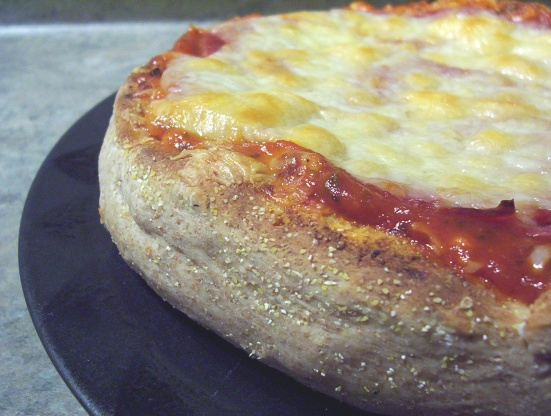 Chicago Style Pizza Crust
1 recipe photo
Directions
In a mixer, combine water and yeast, allowing yeast to dissolve. Add the remaining ingredients (except cornmeal) and begin mixing the dough using a dough hook at low speed.
Once a ball has formed, mix on medium speed for 1 to 2 minutes until dough becomes elastic and smooth.
Remove from the mixer and place in a bowl coated with olive oil. Allow to rest approximately 4 hours.
Once rested, divid into two portions, place on a flat surface and dust with flour.
Preheat oven to 425°F Sprinkle the bottoms of two deep baking dishes or deep dish pizza pans (I use 10 inch springform pans) with cornmeal. Spread the dough, using your fingers, at the bottom of the pan making sure to have enough to come up the sides approximately 1/2 inch high.
Layer first with mozzarella, then tomato sauce and toppings.
Bake pizza for 30 to 40 minutes or until crispy and golden.