"This dish is delish. A very good friend of mine gave me this recipe years ago and I still make it and think of him. His name was Bruce Baird. "Chief Lifeguard, Laguna Beach, CA.""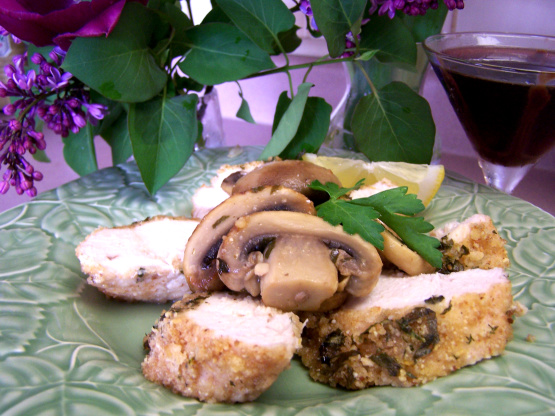 Chicken a La Chardon
2 recipe photos
Directions
Preheat oven to 375°.
Bone 3 whole chicken breasts, leave whole or cut in 1/2.
Beat egg with salt and pepper to taste then add 1 teaspoons garlic powder. Set aside.
Combing bread crumbs and 1/2 tsp garlic powder and Parmesan cheese. Set aside.
Dip chicken in egg mixture then roll in bread crumb mixture.
Arrange chicken, single layer, in a large shallow dish.
Melt butter in small saucepan and add 1/2 teaspoons garlic powder, parsley and lemon juice.
Pour 1/2 of the butter over chicken and bake at 375 for 25- 30 minute.
Remove from oven and spread mushrooms all over and pour remaining butter over top.
Return to oven and bake for 5-10 minutes.
Garnish with parsley.