"I had a craving for burritos, and this is what I came up with. For the taco seasoning, I used
Mucho Gusto Taco Seasoning Mix
. For the shredded chicken, I started with 3 pounds of bone in, skin on thighs, which I roasted with just salt and pepper. I have a small appetite, so one burrito is a serving for me, but if you have a larger appetite, two might be better."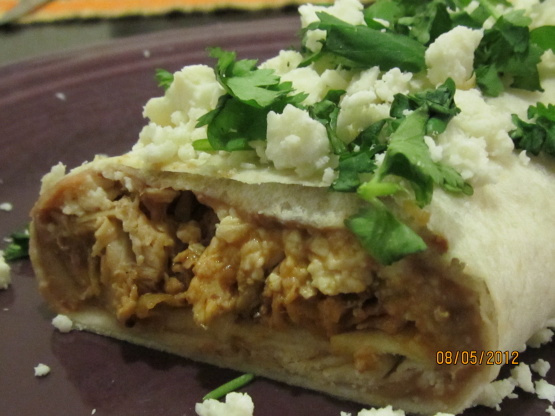 Chicken and Bean Burritos
3 recipe photos
Directions
MAKE THE REFRIED BEANS.
In a medium dutch oven or heavy sauce pan, combine the pinto beans, diced onion, and 2 1/2 cups water.
Bring to a boil, covered, then remove from heat and let soak, still covered, for 2 hours.
After 2 hours, stir the beans and bring back to a boil.
Reduce to a simmer, and let cook until the beans are very tender. This will take between two and three hours.
Add the kosher salt. Taste the beans for seasoning, and if necessary, add the MSG. (I find fat free beans to be a bit bland, so I include this. You may omit if you wish.).
Use a potato masher to crush some of the beans, and stir to thicken the liquid remaining in the pan. If you like your beans smoother, crush as many as makes you happy.
Set beans aside.
CHICKEN MIXTURE.
In a bowl large enough to hold all of the chicken, combine the water and taco seasoning.
Add the chicken, and toss until all of the pieces are coated with the taco mixture.
Taste a piece for seasoning, and if needed add salt or pepper to taste.
Wrap the tortillas in plastic wrap and heat them in the microwave (or a low oven) until they are pliable enough to wrap without breaking.
Set one tortilla on a workspace.
Add about two tablespoons of the refried beans.
Top with about 1 teaspoon of queso fresco.
Top with chicken mixture.
Roll up the burrito and place on a serving platter.
Repeat with the remaining ingredients.
Top with whatever garnishes you like, and serve.
NOTE: These freeze very well. Place individual burritos in snack size zipper bags, and freeze in a freezer safe container. Remove from wrapper and heat in the microwave until hot.