"Who says you have to cook all day in a crockpot. I use mine to simmer dishes such as this one so I don't have to watch the stove. If you like the flavors of green chili chicken enchiladas you'll love this recipe. I use shredded Rotiserre chicken, Northern Beans and green chiles with a few of my favorite spices to make this hearty chicken chili. What's better than smelling sauteed garlic and onion to start, infusing with red pepper and cumin adding all into a crockpot only to simmer while you do other things. In no time you have a family-pleasing main course. Adjust the heat to your tastes! Add a kick with preprared Salsa for a more intense flavor. If you like soups/chilis or stews thicker, add the cornstarch slurry. Serve with cornbread, tortillas or crusty french bread. ;) V's family favorite! I serve this Chili over leftover spanish rice that I freeze just for this dish. Mmm"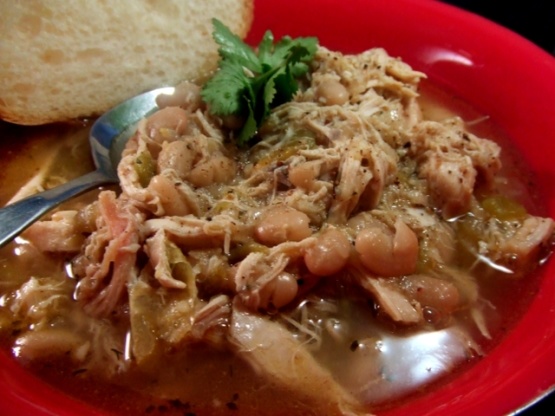 Chicken and Bean Chili
1 recipe photo
READY IN:

1hr 10mins

SERVES:

8

UNITS:

US
Directions
Using a sautee pan, heat oil over medium-high heat. Add onions and garlic; cook 3 or 4 minutes, stirring frequently, until onions are softened. Add butter and continue to cook.
Stir in cumin, salt, red pepper, oregano. Cook 6 to 7 minutes.
While that's cooking, pour chicken broth, water, chilis,into crockpot. Stir in beans. add onion garlic mixture.(add salsa if using).
Shred Chicken breast and some dark meat from Rotiserre chicken removing skin. (4 cups).
Add chicken to crockpot, mix to combine.
top with a dash or two of paprika, dried onion flakes and dried cilantro leaves.
Let it simmer (I set my crockpot on the lowest setting) for an hour or so. (add 3 Tbs of water to 1/3 cup cornstarch - add to soup about 10 minutes before serving).
Run the kids to practice or have a cocktail. When you're ready for a hearty meal, just serve!
(I serve this chili over left over spanish rice that I freeze) Mmmm!
Enjoy. ~V.