"It was a cold and snowy day, and I was hungry for enchiladas. I didn't have the ingredients for my usual recipe, I didn't want to run to the store, so I just made this one up with what I had on hand."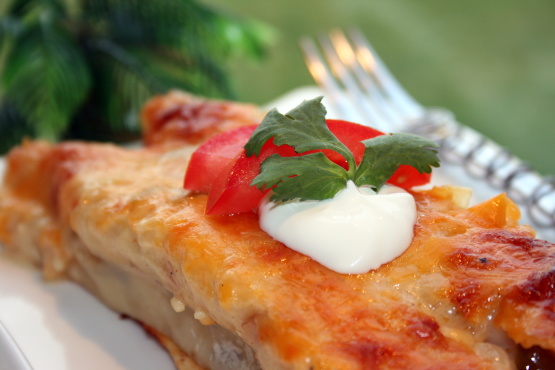 Chicken and Black Bean Enchiladas in Sour Cream Sauce
2 recipe photos
Directions
Preheat oven to 350 degrees F.
Melt butter in a stock pot.
Add diced vegetables and saute until tender.
Sprinkle flour over the butter/veggie mix and whisk together, and cook for 2-3 minutes, stirring occasionally.
Add spices to taste, and cook for another minute or so.
Whisk in the chicken broth and bring to a boil.
When the sauce is thickened, remove from the heat and let cool for a few minutes, then whisk in the sour cream.
Taste the sauce and readjust your seasonings, if you need to. (I find that I often need to add more salt after I add the sour cream.).
Soften tortillas in your usual way. (I fry them in a bit of oil in my cast iron skillet.)
While the sauce is cooking, use a food processor and chop the chicken finely.
Mix chicken, beans, and 1 cup of cheese in a bowl.
Roll the filling in the softened tortillas and place them in a lightly greased pan. (You will probably have tortillas left over. My kids like them spread with a little butter and folded in quarters for snacks.).
Pour the sauce over top, sprinkle with the remaining cheese.
Bake for 45 minutes, or until bubbly and a little browned on the top.