"I haven't made these yet but I was keen to post this recipe as soon as I spotted it in the current issue of the Australian magazine 'New Idea' because I love Fergusson Plarre's (naughty but delicious) spinach and ricotta rolls and this recipe could so very easily be adapted to include spinach by perhaps halving the chicken mince and adding some spinach in its place. Anyway, I'm looking forward to experimenting with the recipe and was keen to post it here where I can find it! The lemon mayonnaise also sounds very tasty! If you're not keen on citrus flavours, feel free to serve with your own choice of sauce or dip. These would, I think taste good with Tzatziki. This recipe featured as part of an easy-to-prepare Melbourne Cup lunch menu. To the best of my knowledge, Melbourne is the only city in the world to have a holiday for a horse race, the first Tuesday in November. And what better place than Zaar to test the truth or otherwise of that statement! And to answer --Nimz--'s query as to why these are called "sausage rolls", I'd say that the term "sausage roll" has become a generic term for anything resembling a sausage roll in appearance. I have two other sausage-less "sausage rolls" posted on Zaar:
Huey's Lamb Sausage Rolls
and
Healthy Chicken and Vegetable Sausage Rolls
."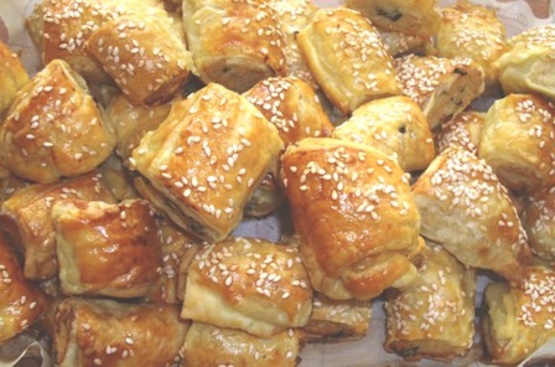 Chicken and Ricotta Sausage Rolls
2 recipe photos
400

g ground chicken

200

g smooth ricotta cheese
3⁄4

cup fresh breadcrumb

2

garlic cloves, finely minced or 1⁄2 teaspoon mccormick garlic season-all seasoning
1⁄3 cup fresh basil, chopped

2

tablespoons fresh chives, chopped
salt, to taste (if not using the 1/2 teaspoon McCormick Garlic Season-All seasoning)
fresh ground pepper, to taste (if not using the 1/2 teaspoon McCormick Garlic Season-All seasoning)

2

sheets frozen puff pastry, thawed

1

egg, lightly beaten
1⁄2 teaspoon poppy seed

Lemon Mayonnaise

1⁄2 cup whole egg mayonnaise

2

teaspoons lemon zest, grated

1

tablespoon lemon juice
salt, to taste
fresh ground black pepper, to taste
Directions
Place chicken, ricotta, breadcrumbs, garlic, herbs and seasoning in a mixing bowl and use your hands to mix it until all the ingredients are well-combined.
Divide the mixture into four portions.
Cut the pastry sheets in half lengthways and place a quarter of the chicken mixture lengthways down each of the long sides of each of the pastry halves; roll up the pastry to enclose the filling and place the four pastry rolls, seam-side down, on a chopping board; brush the pastry with egg and sprinkle with poppy seeds.
Cut each pastry roll into six individual chicken and ricotta sausage rolls and arrange them on an oven tray lined with baking paper.
Cook the chicken and ricotta sausage rolls in a hot oven (200°C) for about 35 minutes, or until the pastry is lightly browned and crisp.
To make the lemon mayonnaise, combine all the ingredients in a medium bowl.
Serve the chicken and ricotta sausage rolls warm or cold with the lemon mayonnaise.