"This is one of our go-to recipes, loved by adults and kids alike. Serve it with a nice green salad and some guacamole and sour cream on the side. I like to pour lime juice over the chicken just prior to removing it from the heat, it adds a certain zing. The enchilada does not need to be fully stuffed. If you stuff them full, count on 1 enchillada per person instead of 1 1/2. The dish freezes well and goes from freezer to oven."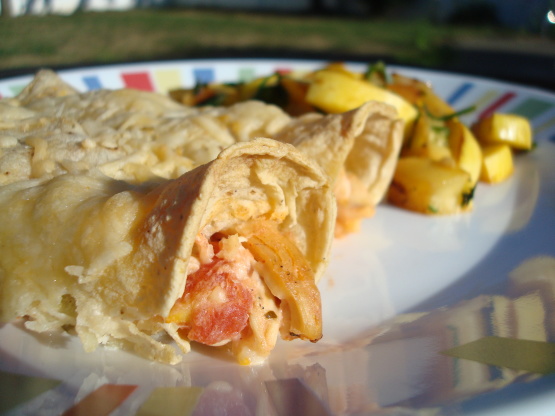 Chicken Enchiladas
3 recipe photos
Directions
Season chicken breast liberally with salt and pepper.Cook chicken breast over medium heat, until fully cooked. Pour lime juice over chicken 1 min before removing from heat. Cool a bit.
Shred chicken breast into semi-fine shreds.
Preheat oven to 400°F.
Assemble enchiladas having all ingredients prepared and in bowls makes it quick:.
Smear a bit of sour cream over the tortilla (not too much).
Place salsa down the middle, approx 1 tbsp per tortilla or as per preference.
Sprinkle chicken, green onions, tomatoes and cheese along the line of salsa. Add red onion if you are a fan of onions.
Roll up and place in glass baking dish.
Continue until done.
Sprinkle a bit of cheese over the rolled up enchiladas.
Bake in oven for 25-30 min until golden and crunchy on top.
Serve with salad, guacamole, sour cream and salsa.