"These are very tasty. Not the typical enchiladas because they dont taste very Mexican. I've made these with whole grain tortillas and regular tortillas and both are really good. The process can get a little bit messy, but the results are worth it! This is a great OAMC meal, and this recipe increases easily by 3, 6, or 9- just change the quantity to 24, 36, or 48 enchiladas. Original recipe here makes enough to serve 5-6. This is not the greatest picture, so please feel free to post another one if you can do better! Recipe adapted from the book: Don't Panic, Dinner's in the Freezer."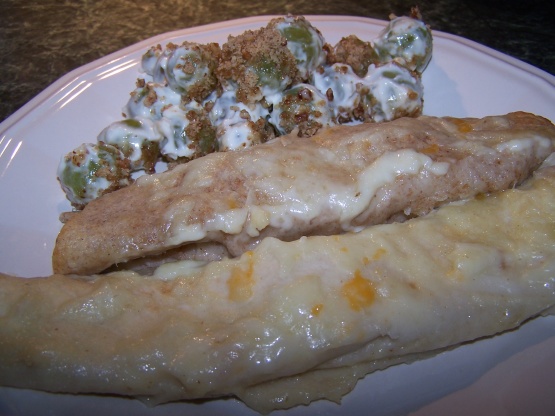 Chicken Enchiladas- Freezer Friendly
1 recipe photo
Directions
Using a large, non-stick skillet, cook onion and green peppers in 2 T. butter until tender, about 5 minutes. Transfer onion mixture to a bowl with the cut-up cooked chicken and can of chili peppers. Set aside.
Using the same skillet, make the sauce: Melt the rest of the butter and stir in the flour, coriander, and salt. Add in the chicken broth and stir until thickened and bubbly. Cook and stir 1-2 minutes more. Remove from heat; stir in sour cream and 1/2 cup of the cheese. Take 1/2 cup of the sauce and add to the bowl with the chicken mixture.
This is the part that gets a little bit messy. (I line 2 baking sheets with foil to make easy clean-up and set up a little assembly line.) Quickly dip each tortilla into the skillet with the hot sauce to soften. (If the sauce gets too cool it will thicken and you'll have a hard time covering all 12 tortillas.) Put the coated tortilla on a cookie sheet and add about 1/4 cup of the chicken mixture. Roll up. Arrange rolls side-by-side on the other lined baking sheet. Repeat with the rest of the tortillas. If there is any leftover sauce, pour it over the enchiladas. Sprinkle with remaining cheese.
To serve right away: Bake at 350 for about 25 minutes or until hot and bubbly.
To freeze: flash freeze. Fold the sides of the foil around enchiladas. Use more foil or plastic wrap as needed. On serving day, thaw completely and bake uncovered at 350 for about 25 minutes until bubbly.