"This is a compilation from the Picayune Creole Cookbook and Cajun-Creole Cooking. The Picayune Creole Cookbook is a compilation of recipes from the Picayune-Creole newspaper of the early 1900's in New Orleans. If you've never made a Cajun Roux, don't skimp of the time it takes to make it. If you want a gumbo with a velvety texture, the roux is of utmost importance. Allow it to cook slowly and don't forge to stir. Don't be put off by the preparation time or the number of steps. It all actually goes together pretty quickly and the end results are worth it."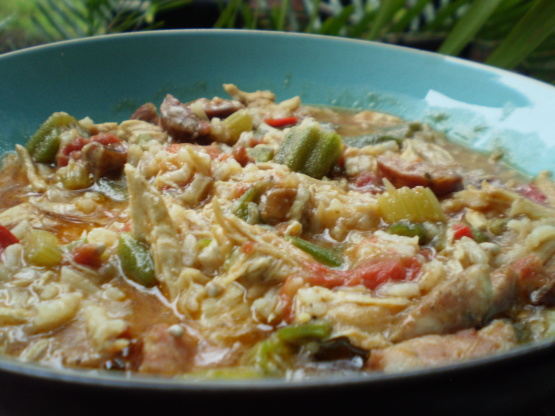 Chicken Okra Sausage Gumbo
1 recipe photo
READY IN:

2hrs 45mins

SERVES:

18

UNITS:

US
1

(4 -4 1/2 lb) chicken (about 4 to 4 1/2 pounds, cut into pieces)

2

cups chopped onions
1 1⁄2 cups chopped bell peppers

1

cup chopped celery

4

garlic cloves, large, minced

3

quarts chicken stock

2

cups water

1

lb smoked andouille sausage, cut into bite sized pieces (if you have fresh andouille, saute the links so they can be cut later)
1⁄2 cup bacon fat (or 8 oz. diced bacon rendered down, reserve the browned bits)
1⁄2 cup olive oil

2

(28 ounce) cans tomatoes

2

lbs okra, 1/4 inch slices (or 20 oz. frozen chopped)
1 1⁄2 teaspoons thyme (or 10 -12 fresh sprigs of thyme, about 6-inch bundled)

1

teaspoon salt

1

teaspoon black pepper

2

teaspoons cajun seasoning

1⁄2 teaspoon garlic powder
1 1⁄2 cups flour

1

cup brown rice
salt, black pepper and red pepper to taste
Directions
Place the salt, black pepper, Cajun seasoning, and garlic powder, with the flour in a 1 gallon zip type bag.
Wash the chicken parts and dry well. Sprinkle with more Cajun seasoning and allow to sit for 30 minutes at room temperature.
(If you do not have bacon fat handy, use this time to render the fat from 1/2 pound of bacon.).
In a large stock pot, about 12 quart, heat the olive oil and bacon fat.
Put the chicken into the bag with the seasoned flour and shake to coat. Drop the chicken into the pan and brown it until the outside is golden. Do it in two batches if necessary. Reserve the flour mixture remaining in the bag.
Remove the chicken and add the flour mixture from the bag to the oil. On low heat, stir the roux thoroughly. Allow it to simmer for 30-45 minutes, stirring thoroughly every 5-6 minutes or less. Do not allow it scorch. It's better to keep the heat lower, stir more often and take the maximum amount of time then to risk scorching the roux which will make it bitter. The end result should be a smooth paste the color of mahogany, several shades darker than peanut butter.
While that is browning, chop the bell peppers, onions and celery. Mince the garlic. Slice each link of sausage in half lengthwise, then lay flat on the board and slice into 3/8" slices.
When the roux has become smooth and rich, add the peppers, onions, garlic,celery and sausage. Stir until the vegetables are wilted and the onions are translucent. Ad the bay leaf.
Add one can of tomatoes and their liquid and stir well. Continue adding the second can of tomatoes, the stock and water slowly, stirring well between each addition to prevent lumps. Bring to a boil. Return the chicken to the pot and allow to simmer until the chicken is falling off the bone, about 40 minutes, stirring occasionally.
Remove the chicken and set aside to cool so the meat can be removed from the bones. Add the sliced okra, the thyme and the rice. Allow to cook on low heat for 40 minutes or until the rice is done.
Adjust the seasonings with salt, pepper and cayenne.