"This is how my Grandma and Great Grandma have been making chicken paprikash forever. The recipes here on zaar are all gravies and thats not how we make ours. My Great Grandma was given a cookbook from the Hungarian Women's Auxilary in Detroit and that's where this comes from. I will also post a recipe for how we make kluskies seperately. Note: I never really measure, so with the paprika, you have to do this by taste and look. Oh! this is really easy to halve or cut down because 12 pieces of chicken is a lot, you defineitely don't have to use that many and you get the same result."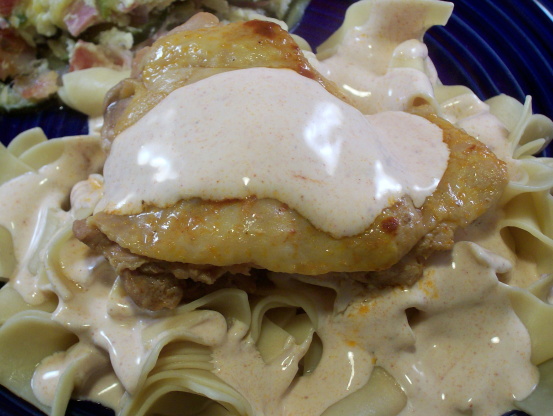 Chicken Paprikash (Hungarian Style I Think)
1 recipe photo
Directions
Dice the two onions (It doesnt have to be perfect, just so theyre small).
Heat a large pot of water and put the 5 bouillon cubes in and let it boil.
In a large skillet, heat up about 4 tablespoons veggie oil (or enough to cover the bottom the pan and a touch more).
When the oil heats, fry up the onions until slightly translucent with salt, pepper, and paprika.
Put a few pieces of chicken in the frying pan and cook about 3 minutes on each side or until the outside turns golden (DO NOT COOK THROUGH) and put in the boiling water, repeat with the other chickens.
Add more paprika to the water until its an orangish color.
Cook chicken for about 45 minutes in the water. But do not drain this chicken broth/ stock.
Once the chicken is cooked, put almost all of the sour cream in a large pot. Take a soup dipper and slowly temper the chicken broth into the sour cream (If it curdles, it curdles, but it still tastes the same :)) Do this until the sauce has an almost watery/floury like consistency (it should be kinda thin) If it is too thin, add the rest of the sour cream.
Next, add enough paprika until the sauce turns a nice reddish white (the paprika sometimes doesnt blend very well) also add some salt and pepper to taste.
Now you can save the chicken stock or throw it away, its up to you but it needs to be taken away from the chicken. Put the sauce over the chicken and serve with kluskies and you have a delicious, filling Hungarian dinner!
get the genius kitchen app.
Watch on your iPhone, iPad, Apple TV, Roku, or Fire TV.
Learn More