"My husband got this recipe from a co-worker who raved about how good it was. We made it with a pound of ground turkey and 2 chicken breasts ground in the food processor. We loved it. A raw Tuscan kale salad that has been shredded and tossed with shallots, Pecornio, olive oil, tsp of lemon juice, salt, and pepper goes great with this dish."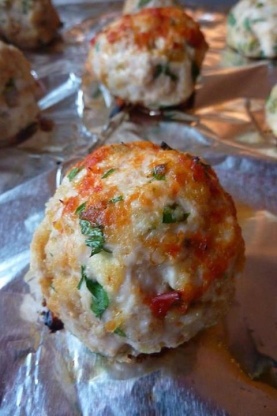 Chicken Parmesan Meatballs
1 recipe photo
Directions
Preheat oven to 400°F, setting rack to upper third part of oven.
In a large bowl, using your hands, gently mix together first 11 ingredients.
Shape into lacrosse-ball size balls (that would be somewhere between golf and tennis) and place a few inches from each other on a foil-lined baking sheet.
In a small bowl, mix one spoonful of your pizza sauce with olive oil. Brush this mixture on top of each meatball. Bake for 20 - 25 minutes.
Remove meatballs from oven, spoon some sauce on top of each meatball, and cover each with a slice of cheese.
Broil another 3 to 5 minutes until cheese is bubbly and golden.
Heat remaining sauce in a small saucepan.
Serve meatballs with a dollop of sauce.