"This is a delicious and moist chicken that has a sweet apple and onion chunky sauce covering it. Makes your mouth smile from the inside out!"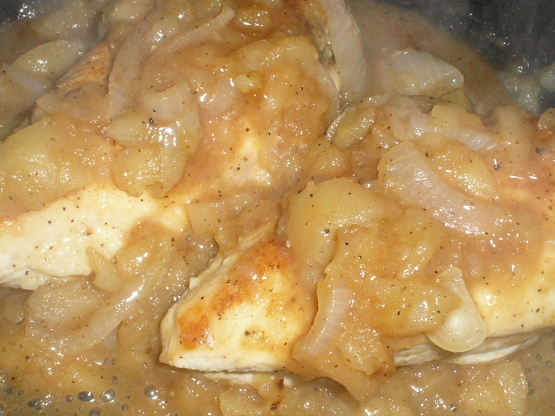 Chicken Smothered With Apples & Onions
4 recipe photos
Directions
Heat a sauce pan to medium.
Peel and slice the apples into small chunks.
Slice the onion.
Add the margarine to sauce pan.
Add the onions when margarine has melted.
Cook until softened - about 5 minutes on medium heat.
Add the water, apples and cinnamon and cook until soft - about 10 minutes.
If the apples are tart, add 1 tbsp brown sugar.
While the apple mixture is cooking, heat a frying pan to medium.
Add the margarine.
Season chicken breasts with salt, pepper and garlic powder to taste.
Add the chicken to the frying pan and brown on both sides - about 10 minutes.
Mix cornstarch and wine together in a bowl.
When the chicken has browned on both sides but is not fully cooked, add the cornstarch and wine mixture to the frying pan.
Stir to loosen any bits from the pan.
Add the apple mixture to the frying pan and stir until wine and apple mixtures are combined.
Cover the chicken with some of the apple mixture and lower the heat a bit until chicken is fully cooked - about 10 more minutes.
Serve with apple mixture spooned over chicken.