Want more from Genius Kitchen?
Watch on your Apple TV, Roku, or Fire TV and your iOS, Fire, or Android device.
Learn More
"This looks like a difficult recipe but it really isn't, just a lot of notes. It's really easy I promise. I have been tinkering with chicken soup the last two winters and found this to work for me. It's still a work in progress but by far this has been the tastiest way of making it. If you want to add the noodles please only put in half of the amount or cook them separately from the soup to help minimize the noodles from soaking up all the tasty broth. As you can see from my photos, the noodles that were cooked in the soup soaked up the majority of the broth, but no one cared as it tasted just fine. Also, pick the veggies that you like. That is the beauty of this soup, you can put what ever veggies that you like in the pot. If it's a softer veggie that will cook up quickly then you'll most likely want to add that towards the end of the cooking time, rather than towards the end unless you don't mind it being too mushy."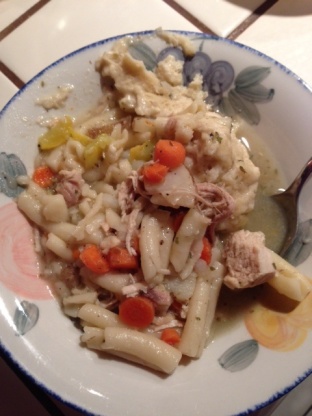 Chicken, Veggie, Noodle, and Dumpling Soup With Flavor
2 recipe photos
READY IN:

3hrs 5mins

SERVES:

4-6

UNITS:

US
Directions
Place chicken in 7 Quart pot fill with water, leaving about an inch from the top of the pot (don't want it to over flow while it cooks.).
Add the ingredients from the Chicken and Seasoning Section immediately after you have done the above step. NOTE: I like to crush up the parsley flakes and oregano in my hand over the pot after I've measured it. You don't have to, it's just something that I did. As for the garlic clove, either use a garlic press or mince finely as it will not be removed from the soup. This is so that you will have flavorful chicken and will be the start of the tasty broth.
Cook on a medium heat for at least an hour and a half to two hours, especially if frozen. I choose to use the chicken with skin and the one bone because it always seems to come out most tender and give the broth extra flavor. But if you use boneless skinless thighs or breasts that's entirely up to you, but I can't guarantee that it will turn out the same. At this time you want to prepare your carrots and slice them up so that you can just dump them in the pot in the next step to save you some time.
When the chicken has been cooked through, using tongs carefully remove the chicken and set on a plate. Then fish out the bay leaves, it will be easier to this now rather than later when you have lots of other goodies in your pot. And dump in the sliced baby carrots now as they are more of a hard vegetable and will take probably the most time to cook.
Using tongs and a knife set a piece of chicken on your cutting board and carefully remove the skin, bone, and any cartilage from the chicken. You want to do this while it's still hot as you're going to toss it back into the pot and don't want it to cool down too much.
Chop into big chunks and put back in the soup pot, you don't want them to be too small or they will fall apart and shred. I like my soups hearty so I do big chunks, but make this soup as you desire.
Wash your cutting board and knife, then wash (peel if you like), quarter and chop potatoes into bite size pieces not too thick and not too thin. Put into pot and do the same to your squash, you can do half of a yellow one and half of a green one if you want. Pick whatever veggies you want and keep in mind that if they're soft veggies like squash they will cook quickly and will need to be added to the end of the soup rather than at the beginning.
If you choose to put pasta in I would do this immediately after the last veggie is tossed in to help it cook up, I would probably only put half a bag of the pasta in as it swells up and will steal a lot of the broth. Or you could cook it in another pot and add it to the soup when it is cooked. It's up to you. I cooked mine with my soup and it stole all of the broth not leaving me very much broth. It was still tasty though and no one cared that the broth was missing.
If you chose to add the pasta, once you have added it to your soup or started it in a different pot I would recommend getting the dumpling mixture ready.
I doubled my mom's dumpling recipe as there never seems to be enough to go around. It makes around 12 -15 dumplings. Feel free to scale back if that's too much. Simply take all of the ingredients for the dumplings and put in a bowl and mix throughly. You should have a tacky ball of dough. If it's too dry either add a splash of milk, or more of the broth from the soup.
Gently drop golf ball size or slightly larger pieces of tacky dough into the soup to allow to cook. They cook for about 5 to 10 minutes before completely done. DO NOT cover with a lid while they are cooking or you'll have a very moist looking dumpling which for me was always harder to tell if it was cooked all the way or not. Better to leave uncovered. When the dumplings are cooked turn off the flame and serve with your favorite crackers.
NOTE: I used Casarecce Pasta which is not recognized by this site. It's a partially rolled long pasta pieces. But use whatever pasta that you prefer for this type of soup or none at all if you wish.
get the genius kitchen app.
Watch on your iPhone, iPad, Apple TV, Android, Roku, or Fire TV.
Learn More