"This recipe makes one serving, because I usually only cook for myself, but you can double as many times as you want to suit your needs. I eat these patties on lettuce, but you can use them as patties in a veggie burger. Enjoy!"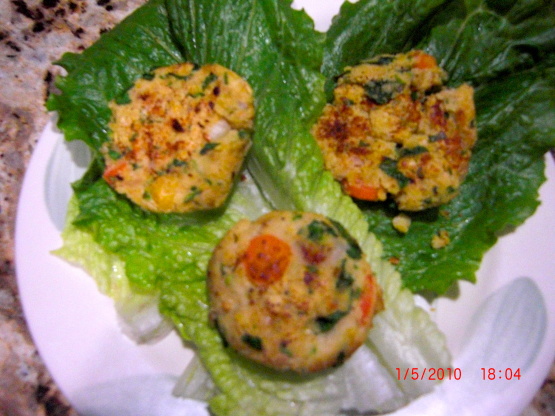 Chickpea(Garbanzo) Patties
2 recipe photos
1⁄2 cup of cooked chickpeas, canned if okay
1 1⁄2

tablespoons of finely chopped white onions

1

medium garlic clove, smashed

1

small carrot, chopped

2

tablespoons of chopped spinach

1

teaspoon fresh Italian parsley
pepper, to taste
1⁄8 teaspoon salt, but make sure if you used canned chickpeas not to add too much because the chickpeas may already con or 1⁄8 teaspoon to taste but make sure if you used canned chickpeas not to add too much because the chickpeas may al salt
extra virgin olive oil (optional)
Directions
Put a medium sized, nonstick skillet on medium heat. Add the onion and carrot, and let them sweat for about 5 minutes, do not brown them. Then add the garlic to the skillet, and combine with the onion and carrot over medium-low heat for about 2 minutes. Turn off the heat, and set the pan aside, leaving the ingredients to cool.
Take the cooked chickpeas and place them into a blender, until they are no longer whole, the mixture should look a bit dry and crumbly. Place the chickpea mixture in a small bowl.
Now take the vegetable mixture and combine it with the chickpeas. Also add the spinach, parsley, salt, and pepper. Mix all the ingredients together, until they are evenly distributed throughout the mixture.
Put the pan you used to sweat the onions on medium heat, and add a bit of oil, if you wish. I used less than a quarter of a teaspoon. Let the pan completely. Meanwhile, begin to form your patties with your hands. Grab about two tablespoons of the mixture and compact it, into the shape of a patty with the palms of your hands, flatten it a bit, gently. I ended up with three patties in varying sizes, so your yield will depend on how much mixture you use.
Now that your patties are formed place them into the skillet, and cook until golden brown on both sides, about five minutes per side. Be careful when flipping your patties, because they might break.
Serve your patties and enjoy! You can top them with ketchup, avocado, salsa, or whatever you like.
get the genius kitchen app.
Watch on your iPhone, iPad, Apple TV, Roku, or Fire TV.
Learn More