"I'm posting this recipe especially for all those ex-pats out there who can't pop out to a Mexican restaurant when they get the craving. It is admittedly a "fiddly" recipe, but making it myself is the only way I can ever get to eat what is one of my most favorite Mexican dishes. After making it once, you'll find that it isn't so difficult. And for those of you living in Europe as I do, I've discovered that the long and slender dark-green chiles found in Turkish and Moroccan vegetable markets work well, and for the cheese I use a white French Pyrenees cheese that is a suitable substitute for Monterey Jack. This seems to be a dish that varies widely from region to region in how it is prepared; this version is the type I always enjoyed the most."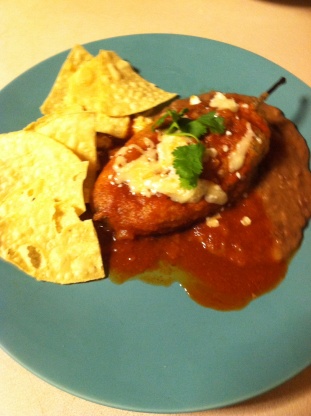 Chile Rellenos
4 recipe photos
Directions
For the Sauce:
Combine the tomatoes, garlic and onion in a food processor and process until liquid.
Heat 1 TBS olive oil in a saucepan and add mixture; cook 10 minutes, stirring occasionally.
Add the chicken broth, salt, jalapenos and cinnamon; simmer gently for 15 minutes more.
For the chiles:
Place the chiles on a baking sheet in a 450°F oven, turning occasionally, until the peels begin to brown and blister all over.
Remove from oven and place in a plastic bowl and cover with a plate; allow to stand for 10 minutes (alternatively, they can be placed in a brown paper bag for the same length of time).
After this time, carefully peel the skins away but keeping the chiles intact, including stems.
Cut a slit (only as big as is needed) along the side of each chile, and slide a piece of cheese in each; if the chile tears open, you can close and secure with wooden toothpicks.
Roll the filled chiles in flour and evenly coat; set aside.
Beat the egg whites in a bowl until stiff.
In another bowl, lightly beat the yolks then add them to the whites, folding in lightly but thoroughly.
Pour peanut oil to a depth of 1/4 inch in a large frying pan and heat to 365°F; you will be able to tell that it is hot enough without a thermometer if when you drop a bit of flour into the oil it quickly begins to brown.
Dip each chile in turn into the egg mixture, coating evenly and sliding any excess off with your fingers, then place immediately in the hot oil (I only fry three at a time).
Fry till golden, turning on all sides (they should be done in 1-2 minutes); remove and drain on paper toweling.
Repeat with remaining chiles.
Remove any toothpicks that you may have used!
Serve topped with the sauce.
get the genius kitchen app.
Watch on your iPhone, iPad, Apple TV, Roku, or Fire TV.
Learn More