"This is one of the dishes I made for a big crowd that will be partying with us on the Fourth of July. (You can cut the recipe in half or you can freeze for a latter day).I used venison but you can use lean beef. Venison is very lean. I use small cubed pieces of meat as well as ground. Gives it more texture. But its melt in your mouth cubes of meat. It really does melt in your mouth. All the different ingredients blend together to give you a nice spicy almost 5 alarm chili. I used Goya beans which are not to be rinsed. Check your cans most do need a rinse.The picture shown is one serving and topped with grated cheddard cheese, sour cream, and Salsa Verde
Salsa Verde
."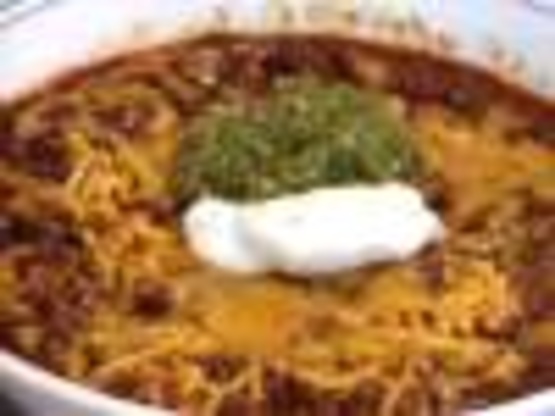 Chili for a Big Bash
2 recipe photos
Directions
In a very large pot.
I used my 18 quart electric roaster oven (counter top).
It`s like a very very large crock pot.
Heat to 400 degrees add oil and brown meats.
While meat is browning add onions, peppers, garlic and Worcestershire sauce.
Continue to cook till all meat is browned stirring often.
Add all the rest of the ingredients and lower the temperature to 275 degrees and cook for 2-3 hour till all the flavor meld into a delish chili. Be sure to stir all the while!
Check for seasoning.
Enjoy over rice or straight.