"I saw a show on the food network where someone did coffee bean/orange infused vodka which turned out to be an amazing liqueur. After that I became addicted to infusing vodka. It's simple, tasty and easy to impress friends. I'd also say if you were to make these infused vodkas and give them as gifts you'd have a ton of new friends. Being a hot head, I made this chili infused vodka because it's vital for a good Caesar. In Canada we have Clamato, a tomato and clam juice, which when mixed with some vodka and hot sauce (and other ingredients of course) becomes like this spicy Bloody Mary. You can add whatever else you like; I find a little Worcestershire and salt with the Clamato works great."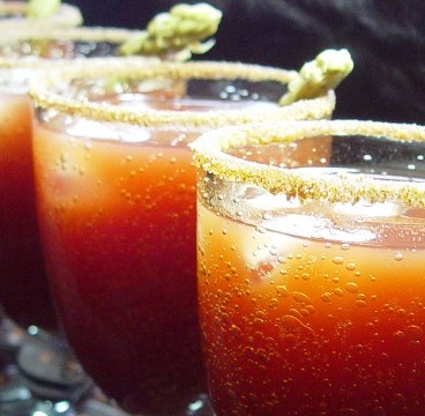 Chili Infused Vodka
7 recipe photos
Directions
Quarter all the fresh peppers and the horseradish. If you want to reduce the heat, seed and stem the peppers. You can really use any combination and quantity of peppers. I used the 4 of each and it produced a brilliant heat level with an amazing taste.
Take your lime and make about twenty slits in the peel all over the lime.
Put all the ingredients into a clean, sterilized wide mouthed jar. Using a wide mouthed jar (like a mason jar) just makes it easier to get everything in and out.
Put the vodka in a cool, dark place. Cover with a dish cloth if you like.
Every day, shake it.
Let the vodka sit at least one week then strain the vodka through cheesecloth and enjoy. I use 1 ½ oz of the vodka, about a tbsp of Worcestershire, a tsp of celery seeds, a little salt and top it off with Clamato (or tomato juice) for a nice fiery beverage.