"This zesty, flavorful salsa will be a hit at your next party! The chilies and limes add a depth of flavor that can't be found in a jar of store-bought salsa. There are some tips/tricks I use to get the best results, so be sure to read those before you go shopping. This recipe makes about two quarts, and you may pressure can it for storage. Cooking is not necessary."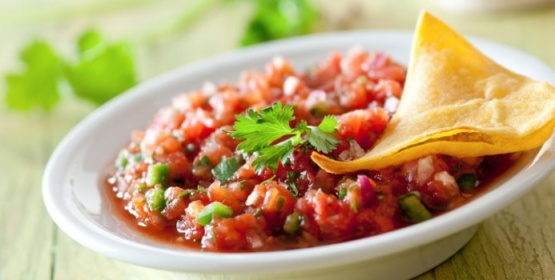 Chili Lime Salsa
1 recipe photo
15

roma tomatoes, de-seeded and chopped (see tips)

1

bunch cilantro, minced including stems

2

limes, zest and juice

1

medium white onion, chopped fine

2

small jalapenos, minced

1

(29 ounce) can tomato sauce

1

(7 ounce) canfire roasted chilies

2

tablespoons minced garlic (roasted garlic is best)

1

(1 ounce) packethot taco seasoning (approx 3 Tb)

1

tablespoon kosher salt, to taste
Directions
Tip 1: As with most salsas and sauces, this salsa is best made a day in advance in order for the flavors to meld. It can be stored in the fridge for up to a week.
Tip 2: Use ripe tomatoes! This is the perfect recipe to use up tomatoes that are getting mushy. If you can't get fresh garden tomatoes, use Romas from the store for best flavor You can place the tomatoes in a paper bag for 24 hours to ripen them further if needed. It's important to de-seed the tomatoes so that your salsa is not watery. See directions below.
Tip 3: Cilantro stems contain a ton of flavor, so use them! It will save you time by not having to pluck the leaves off.
Tip 4: When juicing any citrus fruit, you'll get more juice if the fruit is warm. After zesting, zap your naked limes in the microwave for 15-30 seconds before cutting in half and juicing.
Tip 5: White onions have that sharp flavor that you need to give salsa it's kick, so don't substitute.
Tip 6: The heat of a jalapeno comes from its seeds, so de-seed them if you want a milder salsa. I usually de-seed one, and leave the seeds of the other. OPTIONAL: For richer flavor, you can fire roast your peppers over a gas burner, or in a cast iron skillet on an electric stove . Once they are black on all sides, seal them in a plastic baggie to sweat for 30 minutes, then peel them. ALWAYS WEAR GLOVES when handling peppers.
Tip 7: You can make your own taco seasoning, or use a packet. I prefer McCormick HOT taco seasoning because it has the most flavor. Don't worry, there's not enough cayenne in the packet to make your salsa too spicy. If you want it spicier, add additional cayenne or extra chopped jalapeno with seeds.
To begin, you'll need a very large mixing bowl, a medium bowl that a strainer/colander will fit in, and a small bowl for juice/trash/seeds.
Cut tomatoes into quarters, remove core, then use your fingers to scoop out the seeds and juice into the small bowl, leaving the empty "shell" of the tomato. Using a very sharp knife, chop the tomatoes into small, quarter inch pieces. place the chopped tomato in the strainer over the medium bowl to drain any additional liquid. When all the tomatoes are in the strainer, sprinkle them with the salt and stir, then allow them to rest in the bowl for about 30 minutes while you prep the other ingredients. The salt will draw out extra moisture and drain it into the bowl below.
Rinse the entire bunch of cilantro under cold water, then blot it dry with paper towels. Mince the cilantro, including the stems. Add cilantro to the large mixing bowl.
Peel and chop the onion into very small pieces, a little larger than a mince, and add it to the large bowl.
De-seed jalapenos as desired, then chop finely and add to large bowl.
Zest two limes, add zest to bowl. Then warm the limes and juice both into the bowl.
Add the cans of chilies and tomato sauce, the minced garlic, and the taco seasoning to the bowl.
Now add the strained, salted tomatoes to the bowl and stir the salsa well. Add additional salt and seasonings to taste. When tasting, be sure to use a tortilla chip. Sometimes it seems like you need more salt, but tasting it with the salty chip will be enough.
For best flavor, refrigerate 24 hours.
get the genius kitchen app.
Watch on your iPhone, iPad, Apple TV, Roku, or Fire TV.
Learn More