"Fast food seems to generally have a reputation for being unhealthy. There is, of course, no reason why this should be true. By definition the veggie-burger is seen as a great healthy alternative to meat. However, they can be enjoyed for their own sake and not just sandwiched between a bun. The inspiration for this recipe is taken from Middle-Eastern cuisine. I also hope that it is very easy and quick to make as well as tasty."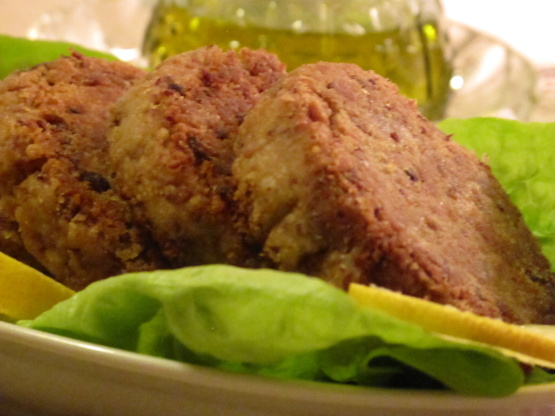 Chilli and Lime Veggie-Burger
2 recipe photos
Directions
Put the dates, couscous, chili powder, ground cardamom, ground paprika, garlic, onion, lime juice, lemon juice salt and pepper and olive oil into a large bowl and mix together.
Mix the vegetable stock in 75ml of hot water and add to the couscous mixture.
Leave the couscous to absorb all the liquid, stirring occasionally. This should take about 15 minutes.
Drain and wash the kidney beans and mash with the back of a spoon or a potato masher.
When the couscous mixture is ready add the kidney beans and breadcrumbs and mix together well. It should form a dough like mixture.
Divide the mixture into eight balls and dust with a little flour, then form and press into burger shapes.
Shallow fry for about 10 minutes on a medium heat in a little olive oil turning occasionally, or until they are golden brown on both sides.
Serve with vegetables and your favourite sauce. Or in a bun with chips of course.
N.B. The couscous should give the burgers a good firm consistency. However, add more breadcrumbs if the mixture is too liquidy.