"This recipe is by Sou Chan. This recipe seems to be a little more authentic then other recipes I have come across. A little extra work but well worth it. Cookie yield will depend on size. Preparation time includes blanching and roasting almonds. You can grind the almonds in the food processor to a somewhat fine consistency. (not powdered) How to's to blanch and roast almonds listed at the end of the recipe."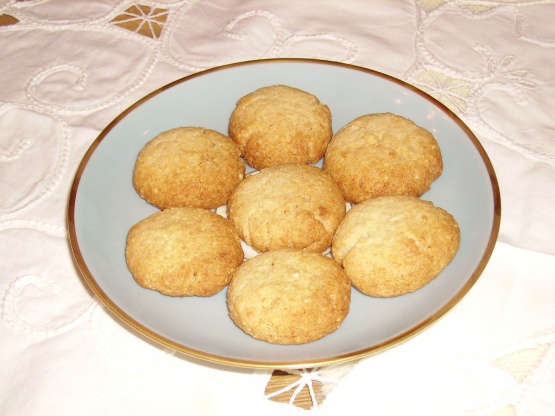 Chinese Almond Cookies
4 recipe photos
1

cup rice flour

1⁄2 cup brown sugar

2

cups shelled almonds, blanched, then ground

1⁄3 cup butter, softened

24 -36

small roasted almonds
Directions
Sift rice flour and sugar together. Mix with the almonds. Work the butter smoothly into the mixture. Add a few drops of water if needed to hold the dough together.
Shape into small balls and place on greased cookie sheet, leaving plenty of space around each cookie. Press an almond into the top of each one. Bake in a moderate oven (350 F) about 15 minutes, or till golden brown.
.
To blanch almonds-.
Place almonds in a bowl.
Pour boiling water to barely cover almonds.
Let the almonds sit for 1 minute and no longer.
Drain, rinse under cold water, and drain again.
Pat dry and slip the skins off.
(Don't let almonds sit in hot water too long or they will lose their crispness).
.
To roast almonds-.
Preheat oven to 350 degrees F.
Spread nuts in one layer on ungreased shallow baking pan.
Bake for 10 to 15 minutes, stirring occasionally, until golden.