"A visually exquisite dessert, dinner party elegant, which is in the September 2005 issue of the Australian magazine 'Delicious'. This is not a recipe that can be divided simply into preparation and cooking times. Suffice it to say, it's NOT a recipe to make for the evening meal when you get home from work, but rather one to be made over several hours during the day. There are three stages where cooling time is needed. I have NOT factored cooling times into my guesstimates of preparation and cooking times below. That said, each stage in the making is quite quick. Please provide information on preparation and cooking times if you make and review this. This a recipe from Australian chef Curtis Stone. As he says of this recipe "I like my desserts to be quite intense but not too heavy; there's nothing worse than feeling so full you want to slide off your chair at the end of the night! Serve this in small glasses and you'll be satisfied but not overwhelmed." I have posted it here for the Zaar World Tour 2005."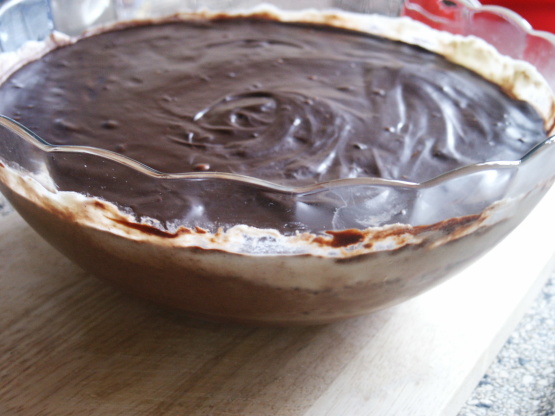 Chocolate After-Dinner Mint Parfaits
3 recipe photos
Directions
Chocolate Mousse: Place the gelatine in cold water to soften and set aside; melt the chocolate in a bowl over a pan of simmering water, stir until smooth, then set aside to cool slightly. In an electric mixer, beat the eggs and sugar on a medium-high speed for 5 minutes or until thick and pale. Drain the softened gelatine and place in a pan over a very low heat. When melted, slowly add the liquid gelatine to the egg mixture, whisking constantly. Stir in the melted chocolate, then fold in the whipped cream. Divide the mousse among 8 3/4-cup (185ml) serving glasses. Chill for 30 minutes or until set.
Mint Mousse: Bring the milk and sugar to the boil in a pan, add the mint, then remove from the heat, cover with a tea towel and allow it to infuse for 15 minutes. Meanwhile soften and melt the gelatine as above, then add to the milk mixture. Strain the mixture, pressing down well the mint leaves. Cool completely, then fold in the whipped cream. Pour into the serving glasses on top of the chocolate mousse layer. Chill for 1-2 hours or until set.
Chocolate Ganache: Bring the cream to the boil in a pan. Place grated chocolate then pour the hot cream over it and stir until smooth. Allow to cool, then pour the ganache over the mint mousse and chill for a further 1-2 hours. Serve garnished with a fresh mint leaf.