"This is a variation of a recipe from "Desserts for Diabetics" by Mabel Cavaiani. This is very easy to make, and they stay moist for a couple days (they never last longer around here!) DO NOT try using cold applesauce--doesn't work! You can make these non-diabetic friendly by using all sugar. NOTE: The flax seed is whole seed, not ground."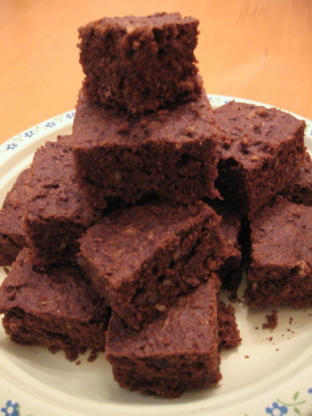 Chocolate-Applesauce-Flax Seed Bars
1 recipe photo
Directions
Preheat oven to 375°F.
Spray a 9x13-inch baking pan with cooking spray.
Place flour, sugar, Splenda, flax seeds, cocoa and spices in a mixer bowl and mix at low speed to blend well.
Heat applesauce in a glass bowl in microwave for about 2 minutes until hot. Stir in baking soda. (DO NOT USE COLD APPLESAUCE!).
Add to dry mix with oil, nuts and raisins. Mix at medium speed until creamy. Spread batter into baking pan.
Bake 20-25 minutes, or until bars pull away from sides of pan. Cool on wire rack. Cut into 18 bars.
Exchanges: 1 starch and 1 fat; or 1 carbohydrate choice.