"This actually came from a no-name bag of chocolate chips that we bought while on vacation many years ago. Since then our house has NEVER been with out a cookie jar full of these. A friend one tols me she was horrified when she found our cookie jar <GASP> empty of these Chocolate Chip Cookies. She said one of these cookies always satisfied her cravings for any sweet things! :)"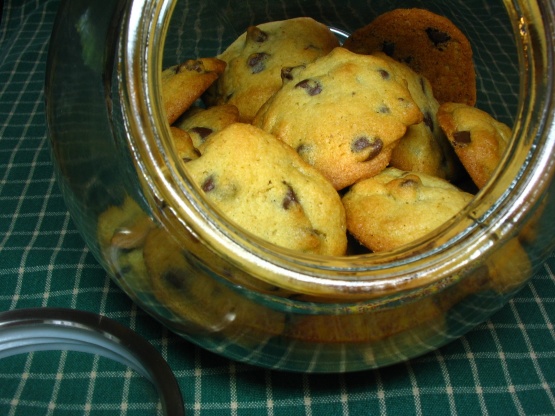 Chocolate Chip Cookies (Best Evah!)
1 recipe photo
Directions
Pre-heat oven to 375.
In a large bowl, cream butter and then add sugars and vanilla until smooth and creamy.
In another large bowl add together Flour, salt and baking sode and combine.
Add eggs to butter bowl and mix until combine. Do not over mix.
Gradually add flour mix to butter bowl, about 3/4 of a cup at a time. Do not over mix, mix until just combined.
Add chocolate chips.
Drop small spoonfuls onto non stick baking sheets or baking sheets with silpat mats. Silpat will help them stay chewy vs crunchy (because we like 'em chewy).
Bake 9-11 minutes.
After cooling for 2 minutes, transfer cookies onto wire racks for 10-15 minutes until cooled completely.
Transfer to favorite cookie jar
To make Ice Cream Cookies:
If you add a scoop of your favorite Vanilla Ice Cream between 2 cookies and roll in jimmes - also known as chocolate sprinkes for you non-New England-ers you will have the worlds best Ice Cream Cookies EVAH!