"While on vacation this summer, I read the book "Chocolate Chip Cookie Murder" by Joanne Fluke. The author included some very good cookie recipes throughout the book. I want to pass the book on to my swap partner in the Used Media Swap on Zaar, I am posting the recipes here so I can try them later. If you make the cookies before me, please leave a review to let us know how good they are. FYI, the author did not indicate how many cookies the recipe makes so I guessed. I will post a correction as soon as I know better. Oh, one more thing - the book was fun to read. (Author's note about this recipe: "A plate of these should be in every psychiatrist's office - - two Chocolate-Covered Cherry Delights will lift anyone out of a depression)"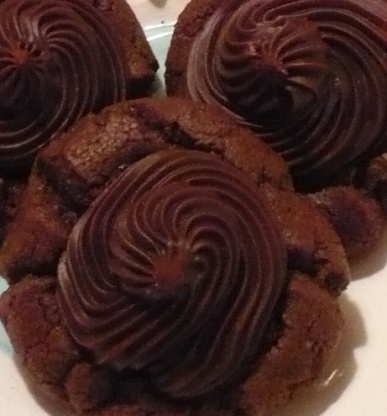 Chocolate-Covered Cherry Delights
1 recipe photo
Directions
Preheat oven to 350°F, rack in middle position.
Melt butter and mix in sugar.
Let mixture cool.
Add eggs, mix thoroughly.
Add baking powder, baking soda, salt, vanilla and cocoa, stirring after each addition.
Add flour and mix well (dough will be stiff and a bit crumbly).
Drain cherries, remove stems, reserve juice.
Pat dough into walnut-sized balls.
Place on a greased cookie sheet, 12 to a standard sheet.
Press down in center with thumb to make a deep indentation.
Place one cherry in each indentation.
In a saucepan, over simmering water (double boiler), combine the chocolate chips and condensed milk.
Heat on low until the chips are melted.
Add approximately 1/8 cup of reserved cherry juice and stir to a thick sauce.
If sauce is too thick, carefully add a little more juice. Test with a teaspoon. If it doesn't glob off, it is too thick.
Spoon the sauce over the center of each cookie, just enough to cover each cherry. Make sure it doesn't drip down the sides.
Bake at 350°F for 10-12 minutes.
Let cool on cookie sheet for 2 minutes.
Remove to rack to finish cooling.