"Normally I am an "entirely from scratch" sort of cook. However, if you have ever been faced with the prospect of making a last minute dessert with very limited ingredients, you may very well appreciate the ease of this simple yet attractive dessert. If the concept of using a store bought cookie crust pie shell and doctoring up pudding mix is appalling to you, then you won't like this at all. But I have made this simple pie many times when pressed for time and it always seems to please - especially when served to children. This is a variation on a recipe found in the Heart Smart Cookbook by Joanna Lund. My version is,obviously, not quite as 'heart healthy' as hers. Her version uses all sugar free and lowfat/fat free ingredients, so if you wish to use any reduced calorie ingredients, by all means do so. I usually use light cream cheese,but I do use real sugar, regular Cool Whip, a either regular or sugar free pudding mix depending upon what I have in the house. You may use sweetened whipped cream if Cool Whip is unavailable, but it won't be quite as stable. Cook time is cooling time (assuming you use the nonfat dry milk powder) - there is no actual cooking involved."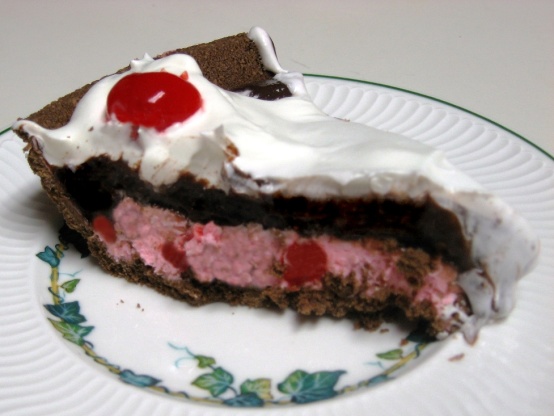 Chocolate Covered Cherry No-Cook Pie
2 recipe photos
Directions
Make sure your cream cheese is at room temperature before you begin.
Set aside 4 of the cherries and chop the remainder.
In a bowl,with a wooden spoon, stir the softened cream cheese until smooth- do NOT use an electric mixer for this.
Blend in sugar and chopped cherries by hand util blended.
Add food coloring and stir gently so as not to splatter dye everywhere.
Stir in just 1/4 cup of the Cool Whip gently- you don't want to crush out all of the air.
Spread evenly on bottom of chocolate cookie pie crust shell.
Get out a whisk and combine the dry pudding mix with the nonfat dry milk powder.
While whisking vigorously, pour the water into the pudding mixture and whisk until well combined- the dry milk powder will make it start to set up and thicken almost instantly so work quickly or you will end up with pasty gobs& lumps.
Stir in brandy extract (yes- you can sub real brandy or sherry, if desired).
Pour this mixture evenly over the cream cheese layer and smooth with a rubber spatula.
Cover pie and chill in fridge 10 minutes.
Using remaining 1/2 cup Cool Whip, use a spoon and drop 8 dollops of Cool Whip on top of the pie all around the outer rim decoratively (or you can just spread it all on top if desired).
Cut the 4 reserved whole cherries into halves and garnish each dollop.
Recover and let chill at least 1 hour before serving.
Note: If you don't have nonfat dry milk powder, substitute 1 1/4 cups cold milk and omit milk powder& water.
If using the cold milk, the second layer will need to chill much longer than 10 minutes- chill until firm, then garnish with the Cool Whip dollops& cherry halves just before serving.
get the genius kitchen app.
Watch on your iPhone, iPad, Apple TV, Roku, or Fire TV.
Learn More