"Posted in reply to a request for gift-basket recipes. Found on a grocery-store display for Van Houtte coffee. Since I haven't made this recipe yet, the times are a guess."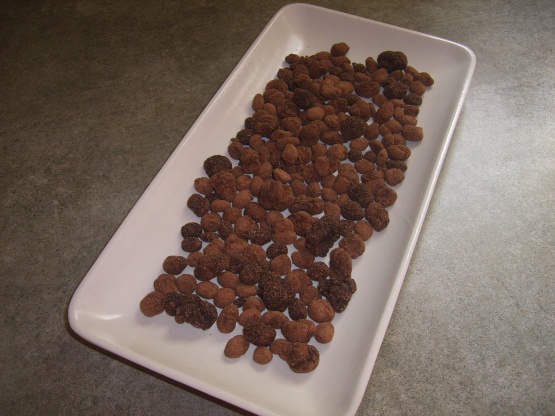 Chocolate-Covered Coffee Beans
1 recipe photo
1

cup coffee beans, of your choice

4

ounces milk chocolate pieces

3

tablespoons cocoa
Directions
Prehaeat oven to 350°.
Place coffee beans on baking pan and roast for 8 to 10 minutes.
Remove and let cool.
In double boiler, melt chocolate until very creamy.
Add coffee beans and stir until completely coated.
Remove with slotted spoon, allowing excess chocolate to drip off and place beans on waxed paper.
Once the coffee beans have cooled sufficiently, but while the chocolate is still a little soft, roll the beans in your hands to form round balls.
Roll each one in cocoa and set aside until chocolate has hardened.