"Yummy little balls of soft chocolate cookie with powdered sugar.... a delicious (yet messy) treat for young and old. (Note: time to chill cookie dough not included in time estimates)"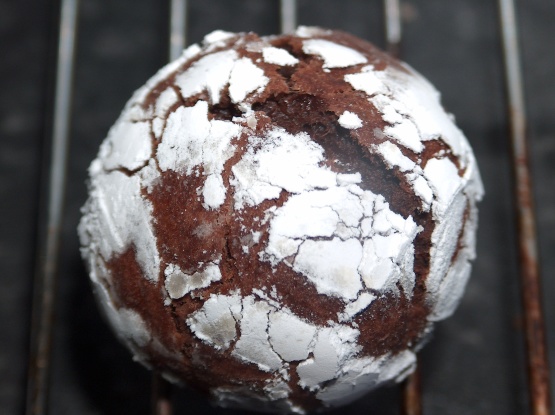 Chocolate Crackle-Tops
1 recipe photo
Directions
In a medium saucepan over low heat, melt the chocolate and butter until smooth, stirring frequently. Remove from heat; stir in sugar and continue stirring 2-3 min or until sugar dissolves. Add eggs one at a time, beating well after each addition; stir in vanilla.
In a separate bowl sift together flour, cocoa, baking powder and salt. Gradually stir into the chocolate mix in batches, until just blended. Cover dough and refrigerate for at least 1 hour, until the dough is cold and holds its shape.
Preheat oven to 325 deg. Grease two or more large baking sheets. Place powdered sugar in a small, deep bowl. Using your hands scoop cold dough into small balls and roll into 1 ½ in balls. Drop each ball into the powdered sugar and roll until heavily coated. Remove with a slotted spoon and tap against the side of the bowl to remove excess sugar. Place on the baking sheets 1 ½ in apart.
Bake for 10-15 min or until tops feel slightly firm when touched. Place baking sheet on wire rack for 2-3 min, then remove cookies and cool on rack completely.