"You really need to cool the batter before you cook these. The first two (negative) reviews were when I had Splenda in the ingredients list - now I've gone back to the original sugar. But really, the Splenda worked for me, too."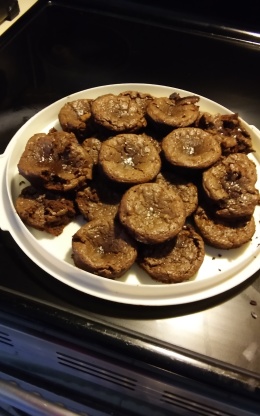 Chocolate Lava Muffins
2 recipe photos
Directions
Melt chocolate and butter together in a large bowl over a saucepan of simmering water.
Stir in the vanilla.
In a separate bowl, combine the sugar, flour, and salt.
Sift dry ingredients into the chocolate mixture and blend with an electric mixer.
Add eggs, one at a time, fully incorporating each egg before adding the next.
Beat on high until batter is creamy and begins to lighten in color (approximately 4 minutes.).
Chill batter.
Preheat oven to 375?.
Coat 6 muffin tins with butter or nonstick cooking spray.
Spoon batter into the muffin tins, using 1/3 to 1/2 cup batter for each muffin.
Bake for 12-13 minutes. Outside should be cake-like and centers should be gooey.