"If you like chocolate mousse then you will think this cake is to die for. Make sure you use good chocolate -- at least 55 percent cocoa solids. I normally go for 70-75 percent cocoa solids, but that is a very intense chocolate taste that may not be to everyone's liking. The number of steps makes this look more difficult than it is. If you are organised and lay things out beforehand, you can go from start to having the glazed cake in the fridge in about an hour. As a mould for this cake, you should use a bottomless cake ring, about 10 inches across and 4-5 inches high, although I have also used a springform pan."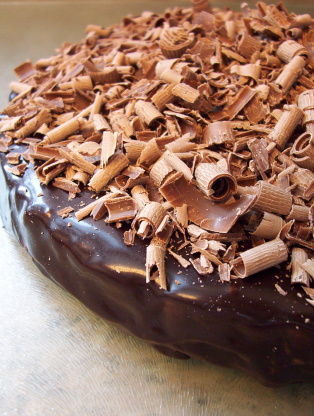 Chocolate Mousse Cake
2 recipe photos
Directions
Start by making the base.
Gently melt the chocolate and stir in the ginger.
Then mix in the ground almonds.
Let cool for a minute until the mixture is not too hot to handle.
Place the cake ring on your chosen serving dish and gently press in the chocolate mixture to create a base.
Put the plate in the fridge while you make the mousse.
To make the mousse, chop the chocolate into small pieces and place in a bowl.
In a small saucepan, bring 150ml of double cream to the boil, then pour over the chopped chocolate, stirring to distribute the heat of the cream until the chocolate has melted.
Lightly whip the remaining double cream.
Do not overwhisk or the mousse will become grainy.
Once the chocolate cream mix has cooled to room temperature, fold in the lightly whipped cream.
Pour the mousse mix into the cake ring on top of the base.
Cover with cling film and place in the fridge for at least an hour before proceeding.
Meanwhile, you can make the glaze.
Chop up the chocolate and set aside.
In a small pan, bring the water, coffee and cocoa powder to a boil, whisking to dissolve the cocoa.
Place the sugar in a small pan over medium heat.
As it heats up, the sugar will begin to melt and caramelise very quickly.
You may need to brush the pan with a bit of cold water to keep it from burning, so it is good to have some to hand.
When the melted sugar has become a golden caramel, pour in the water, coffee and cocoa mix.
Beat in the chopped chocolate and, when completely melted, pass the mixture through a fine sieve.
When cool but still liquid, pour the glaze on top of the mousse and return the cake to the fridge to set.
You can now leave the cake overnight.
The next day, dust it with cocoa powder and then decorate it.
Very classic and beautiful is to cut the strawberries in half lengthwise and lay them cut-side down along the edge of the cake.
Sprinkle the hazelnuts all over the top.
Keep cool until you are ready to serve the cake.
It cuts best if you use a knife dipped in hot water.
get the genius kitchen app.
Watch on your iPhone, iPad, Apple TV, Roku, or Fire TV.
Learn More