"This cheesecake has a surprise layer of chocolate on top of the crust when it is cut. Mmmm, so yummy. I was trying to mimic Johnny Carino's Turtle Cheesecake, but I didn't quite get it right. This still tastes AWESOME, in my opinion, though. I wouldn't bother looking at the nutition info... :) *Note:* Prep time does not include cheesecake cooling or chilling time. Updated 5/12/09 to add: The melted chocolate layer on top of the crust can become quite solid after refrigeration (...not how I envisioned it!), making it difficult to cut. Fudge ice cream topping might be better AND stay ooey-gooey when the cheesecake is cold. If you try this out, let me know what you did and how it works out!"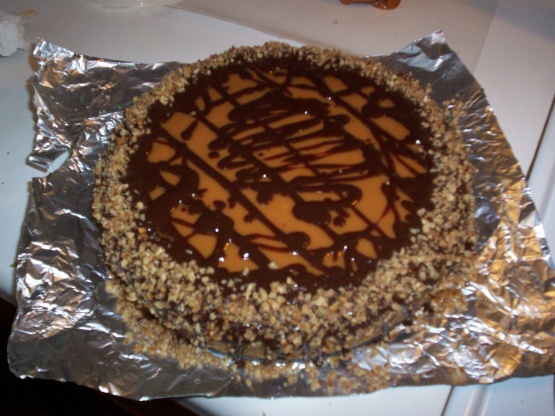 Chocolate Surprise Turtle Cheesecake
3 recipe photos
Directions
Combine graham cracker crumbs, 1/2 cup of pecans, and butter; blend well. Press into the bottom and 1 inch up the sides of a 10-inch springform pan. Place the crust in the refrigerator while making the ganache.
Combine the 1/2 cup heavy whipping cream and 2 Tablespoons butter in a microwave-safe measuring cup. Heat on HIGH for 30 seconds, or until the butter melts. Add the chocolate chips, and stir with a wire whisk until mixture is smooth (heating in 20-second increments on HIGH, if necessary).
Pour, and spread, over the crust, within 1 inch from the edges of the pan. Place in the freezer until fudge is firm, about 30 minutes.
In a mixing bowl, beat cream cheese until smooth. Add sugar and vanilla; mix well. Add eggs, one at a time, beating well after each addition; do not over-mix. Carefully spread over the ganache filling.
Bake, in a water bath, at 350 degrees for 1 hour and 5 minutes, or until filling is almost set. Let cheesecake sit in the turned-off oven for one hour with the door ajar.
Remove from the oven, and cool, on a wire rack, to room temperature. Chill in the refrigerator overnight.
The next day, in a saucepan over medium heat, melt the bag of unwrapped caramels with 1/3 cup of cream, continuously stirring until smooth. Take off the heat, and cool 5 minutes. Pour on top of cheesecake within 1 inch of the edge.
Coat the sides and top edge with remaining pecans and melted chocolate drizzled around the edge. When ready to serve, cut the cheesecake with a hot knife. (Store the unused caramel in fridge as dipping sauce for fruit.).